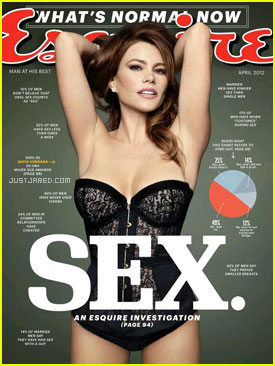 It isn't just the boobs, you know. It's Sofia Vergara's whole presence, her energy and wit and her willingness to make fun of the fact that she is, let's be honest, smokin' hot. 
We've actually lost count of the number of products she's endorsing, awards shows she's attending, interviews she's giving, and magazine cover that are featuring her…but if you needed any further evidence of her popularity and her power, look no farther than the new issue of Esquire. Here's the impossibly attractive cover for the issue that features her…and click here for a gallery of other shots, courtesy of Esquire itself.
Still not satisfied? Warm up your DVRs…Vergara will be hosting NBC's Saturday Night Live on April 2, at 11:30P. Not to be missed!