A while back, we saw that six of the twenty-four pilots that ABC was looking over had Latinos in the lead or in the cast. There was a Delta Burke sitcom with Luis Guzmán, and Many More. A project with Eva La Rue, a really interesting con-artist show starring John Leguizamo, with Dustin Ybarra in a supporting role, and–of course–the infamous Devious Maids, Marc Cherry's follow-up to Desperate Housewives, starring Judy Reyes, Ana Ortiz, Dania Ramirez, Angelique Cabral, and Roselyn Sanchez (see here). Eva Longoria even signed on as an executive producer, and they were starting to hire staff. That one looked like a lock.
Except…on the same day that the series finale of Housewives aired, ABC quietly announced they were giving Maids a pass. As usual, no explanation why; it just wasn't going to happen.
Now ABC has announced its full schedule for the fall. The good news: 8 of the 13 scripted series that have been renewed have Latinos in the cast: Castle, Grey's Anatomy, Last Man Standing, Modern Family, Once Upon a Time, Private Practice, Revenge, and Scandal. Not so good: the much-bally-hoo'd GCB, with Marisol Nichols, didn't make the cut. And the less said about last seasons starters like The River and Work It!, the better.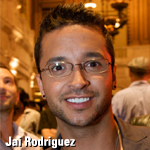 Only two of the new scripted shows that ABC is premiering, have Latinos in the cast, both in supporting roles. Blogger, vlogger and writer Rebecca Delgado Smith joins Sarah Chalke (Scrubs) and a strong cast for How to Live with Your Parents for the Rest of Your Life, about a recent divorcee moving back in with her parents. And the remarkable Jai Rodriguez, one of the hosts of Queer Eye for the Straight Guy (who did an incredible turn as a transgender on Harry's Law last season) will be a part of Reba McIntyre's new sitcom, Malibu Country, about the recently divorced ex-wife of a country music legend who moves from Nashville to–wait for it!–Malibu!–to jump-start her own long-delayed career. Jai is one of the whacky California types she falls in with (but he is in good company: not only McIntyre, but Lily Tomlin and Sara Rue are part of the cast. Both will be appearing in January, after short-lived series like Dancing with the Stars and Shark Tank end.
And then there's Ian Gomez in Cougar Town, which has left ABC but will be appearing down the dial on TBS at some point in the future.
All in all, ABC looks to be the leader in Latino-involved programming all week long, though with the loss of Housewives and the thumbs-down on most Latino pilots, there's still an air of disappointment about the season. Here is it, day by day, with Latin-centric shows in CAPS.
MONDAY
8:00    Dancing with the Stars (in January: The Bachelor)
10:00  CASTLE (Jon Huertas)
TUESDAY
8:00     Dancing with the Stars Results Show
(In January: HOW TO LIVE WITH YOUR PARENTS FOR THE REST OF YOUR LIFE) (Rebecca Delgado Smith)
9:00     Happy Endings
9:30     Don't Trust the B—in Apartment 23
10:00   PRIVATE PRACTICE (Benjamin Bratt)
WEDNESDAY
8:00     The Middle
8:30     Suburgatory
9:00     MODERN FAMILY (Sofia Vergara, Rico Rodriguez)
9:30     The Neighbors
10:00   Nashville
THURSDAY
8:00     Last Resort
9:00     GREY'S ANATOMY (Sara Ramirez)
10:00   SCANDAL (Guillermo Diaz)
FRIDAY
8:00     Shark Tank (in November: LAST MAN STANDING (Hector Elizondo)
9:30     (in November: MALIBU COUNTRY (Jai Rodriguez)
9:00     Primetime: What Would You Do? (In November: Shark Tank)
10:00   20/20
SATURDAY
8:00   Saturday Night College Football
SUNDAY
8:00     ONCE UPON A TIME (Lana Parrilla)
9:00     REVENGE (Madeleine Stowe)
10:00   666 Park Avenue
And yes, it's the newcomer Revenge that's slipping into the coveted Desperate Housewives slot on Sunday night. All in all, it could be far worse: there are Latinos on prime time TV every night that ABC has a scripted series of any kind. A total of ten of the eighteen scripted series returning or premiering in the fall or mid-season have Latinos.
And this is by far the best of the lot. On to NBC next…where the news is not so good.