On the networks and on cable, Latinos in lead or supporting roles are all over the place in February and March
It's no fun for anyone when TV series with Latinos in the mix keep getting cut down, from Eddie Cibrian in The Playboy Club all the way to the swan song of Desperate Housewives and Chuck. But all is not lost: more than half a dozen comedies and dramas are appearing or reappearing up and down the dial in the next thirty days alone.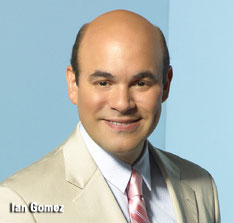 It begins on Valentine's Day, when Cougar Town, with Ian Gomez in the ensemble, finally makes it back onto the ABC Schedule at 8:30, following the not-as-strong-as-hoped Last Man Standing with Tim Allen and Hector Elizondo and ahead of The River, the troubled but fascinating thriller/horror with: Paulina Gaitán and Daniel Zacapa. (Tuesdays remain a strong night for Latinos, with Cote de Pablo on CBS' NCIS, Sarah Ramos on NBC's Parenthood, Naya Rivera, Lea Michele and (for the moment) Ricky Martin on Glee on FOX, and three separate shows on ABC.)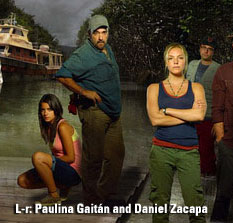 A couple of weeks later, James Roday (Rodriguez) brings Psych back with a bunch of new episodes on February 29 at 10P. Roday, already a producer on the show, will be doing even more writing and directing as the season progresses–something he's been doing on and off for years now, with a dozen episodes under his belt. And it's not like he's new to it; he was a screenwriter on a horror movie, Skinwalkers, long before he moved to Santa Barbara and became a fake psychic detective.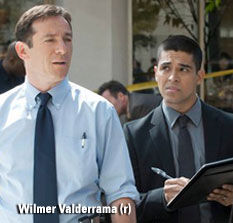 Wilmer Valderrama is part of the cast of Awake, the slightly metaphysical drama that is NBC's last new show for the 2011-12 season. It's all about a man who has a severe car accident, and finds himself slipping between two parallel worlds every time he sleeps. Valderrama plays his partner and friend. (And speaking of partners and friends, watch for him as a guest star on former That 70's Show partner Laura Prepon's NBC sitcom; Are You There, Chelsea?) Awake finally sees the light of day on March 2.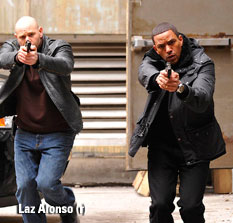 A&E gets into the act just a couple of days later, when Breakout Kings, starring Laz Alonso, returns for a second season on March 4 at 10P. A&E must be pretty high on this show–its extended teaser/promo is running in movie theaters with other theatrically based "coming attractions"…and it holds up remarkably well.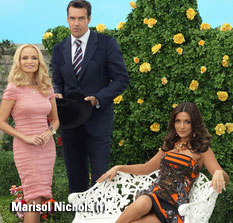 ABC's long-awaited GCB (aka Good Christian Belles, originally Good Christian Bitches, the name of the book that started it all) finally shows up on March 4, starring Marisol Nichols (along with Kristen Chenoweth and many others) as Heather Cruz. It remains to be seen how much of the edge remains in this once-edgy concept.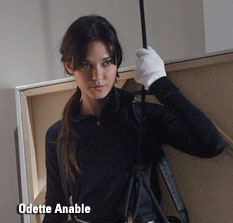 FOX's Breaking In, the strange caper-like sitcom starring Christian Slater and featuring Odette Anable, still warm from her sting on the expiring House, returns from the dead on Tuesday, March 6. And it really was dead: FOX officially cancelled the show after its short first season, only to change its mind a few weeks later and bring it back for a later, late midseason plug-in.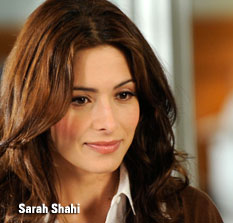 Finally, Sarah Shahi's long-awaited return to the USA network finally comes to pass when Fairly Legal shows up on the schedule at 9P on March 16. Friday nights aren't exactly prime time these days, but maybe the lack of anything else worth watching will tempt people to see this lively, unexpected half-legal half-funny drama with one of the brighter young Latinas on TV.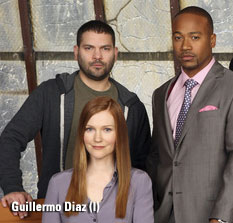 …and it doesn't end there.  Come April 5, we'll be seeing Guillermo Diaz as "Huck" in Scandal, an ABC drama from Shonda Rhimes (Grey's Anatomy, Private Practice, Off the Map), about a professional "scandal fixer" and her adventures in PR. Strange timing, but by then just about everyone will be hungry for new content as the 'regular' series fade into reruns.
All in all–on network and on cable–that's not a bad representation of new and returning shows. Better warm up your DVRs right now. It's going to be a busy month.