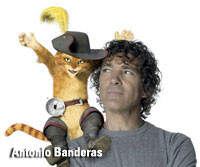 Antonio Banderas, Salma Hayek, Constance Marie and yes, even Guillermo del Toro are among the voices in Puss in Boots, the spin-off from the Shrek trilogy that's already made roughly 18 gazillion dollars for DreamWorks Animation. It's anticipated that Puss will add another 35 per cent to that number by, roughly speaking, Tuesday.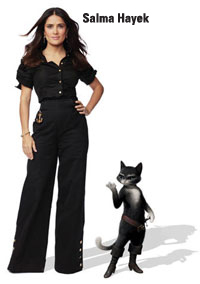 This isn't Banderas' first trip around the animation nation. He's been Puss since Shrek the second.  But the long-anticipated arrival of The Booted One reminds us that Latinos have been a major part of animation voice-work for years–not just behind the camera, doing the hard work, but out front, as celebrity voice-actors in feature films and TV series.
The modern era of Latino Voice Acting seems to have begun with Cheech Marin. His incredibly distinctive "East L.A." voice has served him well since his days doing stand-up with Tommy Chong. Cheech's voice-work goes back almost 25 years, to Oliver & Company (yes, the inevitable first voice job: the Chihuahua). And he was Buck the Dog on multiple episodes of Married with Children even before his 'breakout' role as the jackal Banzai (beside fellow jackal Whoopi Goldberg) in Disney's The Lion King. Since then he's been in Cars, in a number of video games, dropped in on everybody from South Park to Dora the Explorer, and even circled back to canine clichés as the lead in Beverly Hills Chihuahua. And this year he's back in Cars 2, with more to come.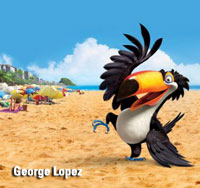 George Lopez has become a kind of latter-day Cheech, using his own memorable accent to bring a wide variety of animated characters to life. In fact, his first gig was side-by-side with Cheech in Beverly Hills Chihuahua. His voice was lent to Marmaduke and then the BHC sequel; this year he was part of two of the biggest animation successes in recent years, Rio and The Smurfs. And you'll hear him again at The Smurfs Christmas Carol, any day now. There's even talk of a Speedy Gonzales movie for Lopez, which is particularly ironic, since Warner Bros. was forced to pull Speedy cartoons from public view for a number of years because of his racial sterotypicality.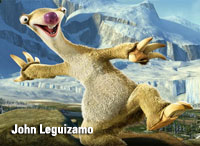 John Leguizamo has paid the bills in three (soon to be four) big movies as the voice of Sid in the Ice Age series. Michelle Rodriguez has built a lucrative cottage industry in voicing video games–some made from movies she was in, like Avatar, and others just because she has the quintessential kick-ass Latina voice (to match many of her roles); thus: appearances in Halo 2, Driv3r, True Crime, and many more. America Ferrera was the lead female in the huge animated hit How to Train Your Dragon; Wilmer Valderrama has rather famously supplied the voice of Manny on Handy Manny; and Kathleen Herles, of Peruvian descent, and Caitlin Sanchez have shared the voice duties of Dora on Nick Jr.'s Dora the Explorer for years.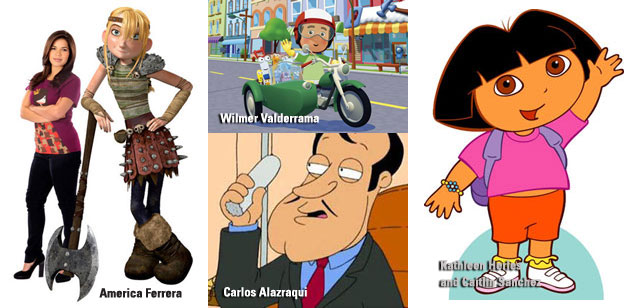 And then, of course, there's Carlos Alazraqui, the Latino actor who's actually better-known for his voice than his looks (though if you ever watched Reno: 911 you saw him every episode, until the last season anyway, as Deputy James Martinez). Carlos was the voice of the Taco Bell–there it is again–Chihuahua. And since the mid-nineties, he's been a regular character and a 'guest' voice actor in an endless number of TV series and movies, from Sponge-Bob Square Pants to Fairly Odd Parents to Wow! Wow! Wubbzy! He's not just the go-to guy for Latino voices; maybe half of his output has a Latino accent of one kind or another. He's also the go-to guy for any kind of voice, most recently as Nestor in Happy Feet and Happy Feet Two.  But "most recently" is a dangerous term to use with Carlos; he'll be adding three new episodes and six new projects next week–just watch. If you've ever actually heard him talk as himself (he shows up occasionally on Stephanie Miller's syndicated radio show, since he was her original 'voice guy.'), you know he's fast. As fast as…well, Speedy Gonzales.
It's a little-known side street in Hollywood, but the news is good: Latino voices are consistently well-represented in animation, and the future looks bright.