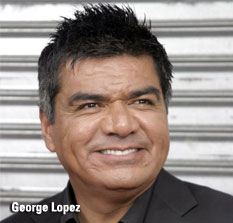 The big news, if you haven't heard already, is that George Lopez is this close to closing a deal that will put him into a new sitcom–not as producer, but as star. Little is known about the show's concept or cast at this point, but one interesting thing is the (rumored) structure of the deal itself–the same deal that the same company has made with Tyler Perry for his show, and Charlie Sheen for his upcoming sitcom Anger Management.
Basically, the production company will order only ten half-hour shows…and if the program meets or exceeds a certain ratings threshold (a private number of course), then the producers will order the next ninety–but only if Lopez' numbers makes the grade. Which means, in real terms, George has to hit the ground running and perform, ratings-wise, from the get-go, or the show might not make it to the third month. Gone are the days of a flat 100-episode placement – the 'magic number' for syndicated shows. And it's not like Lopez will really have ten weeks to succeed; the additional order has to come in well before the tenth show airs to hang on to key players in front and behind the camera. More realistically he has four shows, maybe six, to make it happen.)
"…this could easily turn into a real test of Lopez' appeal,
both in the Latino marketplace and overall…"
This isn't a sign of lack of confidence in Lopez; Perry and Sheen cut the same deal with Debmar-Mercury, the very successful production company that Lopez is working with. And without knowing the "minimum" ratings number, it's still likely that Lopez can pull it off. Even though his TNT talk show struggled in the ratings, that was a late-night talk show that ultimately stood in the shadow of Conan O'Brien, while Lopez' old sitcom still performs very well in syndication, even though the last episodes were produce five years ago. (Of course, that initial five-year run was on a major network, and the whole net/cable world has changed significantly since then.)
The contracts have yet to be signed, but the Hollywood Reporter and other sources seem pretty confident. So expect to see the Lopez marketing/PR machine rev up fast and furious once the ink is dry and the premiere dates are set.  After all the protests surrounding the abrupt cancellation of the talk show, this could easily turn into a real test of Lopez' appeal, both in the Latino marketplace and overall…and a sign of just how much the "Latino market" can be motivated to act as one.