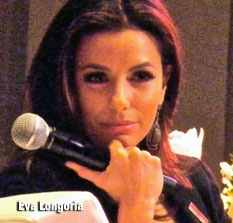 It's no secret that many in the Latino community are uncomfortable with the concept of Marc Cherry's (Desperate Housewives) new pilot for ABC: Devious Maids. Though it stars four powerhouse Latinas–Ana Ortiz, Dania Ramirez, Judy Reyes, Roselyn Sanchez—all of them will be portraying household domestics–a role that, not so long ago, was the only kind of role that Latinas could get on television.
Just a couple of weeks ago, Eva Longoria joined the project as an executive producer. And even more recently, the folks at the Huffington Post's Latino Voices had a chance to ask her about the controversy. As usual, Eva was direct and articulate, offering an answer that does make us stop and think–and wishes we could ask a couple more.
Take a look at her response:
…and thanks to Huffington Post's Latino Voices for asking the tough question. You can see more here.
Photo: ©2012 Anselmo S. Ortiz