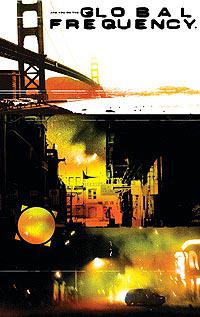 From our friends at Amityville Now
Michelle Forbes, Aimee Garcia, and Josh Hopkins are not only still with us, they all look virtually the same as they did in 2005—or even better. So go find the lost pilot, re-release it, sign 'em up and let's get this show on the road, Fox.
So here's the good news: Warren Ellis' major mind-melt of a comic, Global Frequency, has been optioned by Fox. Apparently emboldened by the 'success' of Gotham and the buzz around comics properties on virtually every other network, they're forgetting the painful death of Human Target and trying again, with a half-espionage, half-X-Files adventure starring a—get this, it's pretty original—team of eccentric super-techs led by the most cynical heroine in modern funnybooks, Miranda Zero.
It's a great idea. It's just not necessary.
Global Frequency (the comic series) is very good. In fact, along with Planetary, it may be the best stuff Warren Ellis ever wrote in comics, even a decade and a half later (and yes, even better than The Authority and Transmetropolitan, as good as those were). And one of the great missed opportunities for the last decade is the TV version of Global Frequency that was completed, never shown, and never optioned.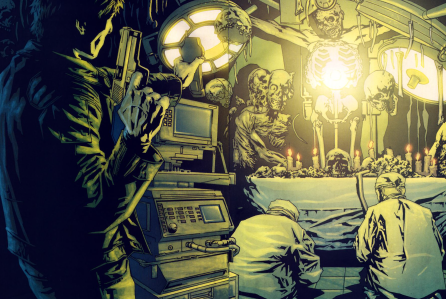 We recently visited a notorious video speakeasy on the seedy side of Toon Town, knocked three times, then twice more, then broke wind, and were admitted to watch a bootleg copy of that long-ago pilot (there, we said it! Such places DO exist!), and here's what we came away with: this was damn good, and there's no reason to make it again. Just buy up the pilot and re-hire the major players, and do a sequel. In fact, do a dozen or so sequels and call it a TV series, like that Doctor Who and Orphan Black stuff we've heard about.
Consider: we've loved Michelle Forbes since she was Ensign Ro on Next Generation. We watched her with great delight in Battlestar Galactica and True Blood and 24; we were awed by her in The Killing and we jumped with virtual delight when we heard she was going to be "Retro Girl" in the upcoming, long overdue adaptation of Powers on HBO. And here's the thing: she hasn't changed a bit in the last ten years. She could do GF 2right now as if only a week had passed.
Same goes for Aimee Garcia, who was fairly new to the game when she played Aleph (okay, Greeting from Tucson and All About the Andersons, but really, this was the Big Time). Since then she's gone on to some great work in things like Trauma and Robocop. Crap, she did two seasons of Dexter, for God's sake. The lady knows her stuff. And again: hasn't aged a day.
And Josh Hopkins has been languishing in the cul-de-sac of Cougar Town long enough. Yes, he's handsome, but he's also proven himself adept at drama and action as well as comedy (we personally loved him in Pepper Dennis). It's about time he got back into the ambiguous and intriguing world of Planet Ellis, where we all belong.
So no remake. No reboot. No re-thinking. Rockne S. O'Bannon of Farscape is behind this, along with Ellis himself. Forward, you guys, into the past, and put this team back together. We're waiting.
(By the way, the 'failed' pilot of Global Frequency has the distinction of being the first pilot to be widely 'leaked' with the help of peer-to-peer and bitorrent technologies. To this day, the only wait you can see it is, well, you know, that way. Except in the tawdry video speakeasies on the seedy side of town. Just remember: Knock three times, then twice, then break wind. Ask for "Bruno."