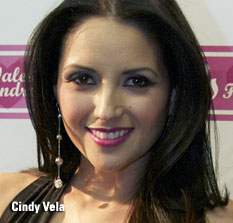 There are thousands of Latina actresses in Hollywood, working hard to get noticed…but only Cindy Vela managed to get 'killed' and get noticed at the same time.
There's no manual for going viral on the Internet; literally millions of people are trying to make it happen every day. And Kyle Rankin, a writer/director who won the Matt Damon/Ben Affleck competition Project Greenlight and directed The Battle of Shaker Heights with Shia Lebeouf, succeeded: he conceived of a "found footage" short about a practical joke gone horrible wrong that has generated more than 2.75 million hits on YouTube (so far).
One of the stars, model and actress Cindy Vela, suddenly found herself at the center of an internet phenomenon that convinced literally millions of people that she was dead.
Cindy went on her own Twitter and Facebook accounts to explain that it was just a movie–one of many she'd been part of, in fact. MSNBC's Caught on Camera produced a segment to explain what they did and how they did it. And still many people were convinced, and more than a few of them confused. "I did get some backlash," she told Se Fija! recently, "but mainly from people who didn't realize it was a short film." It's not surprising: the sudden "twist" ending to the video is pretty impressive:
Before her fictional death, Cindy had already made an impression on many people inside and outside the industry. Born in Brownsville, Texas, Cindy was such a talented musician–a saxophonist, actually–that she was part of jazz and tap bands that actually fronted for Latino entertainers like Tito Puente, Celia Cruz and Jose Feliciano. That got her noticed by Hollywood, which led to a relocation to Los Angeles and modeling work for major print clients like Motorola, Wells Fargo, O.P.I., and Kellogg's. One of her most prominent roles was becoming the "girl on the box" of the Spanish-language Special K cereal, wearing a specially designed red dress designed by Ximena Valero. Cindy was hand-picked by the designer to be part of a promotion that gave hundreds of those beautiful red dresses to women all over Latin America. "Ximina felt I was what the campaign was for," Cindy said. "It's all about the strength of women. We should make them feel beautiful inside and out, no matter how tall they are, how short they are, what the weight, what they look like–it doesn't matter." The collaboration with the designer continued after the Special K promotion ended last year; Cindy has recently been named the "Face of Ximena Valero Fashion." (You can read a nice piece about her Kellogg's adventure here, in a story from HispanicallyYours.com.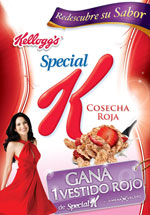 Cindy's been equally successful in her early acting projects, including stage work like Father of the Bride and The Wonderful Ice Cream Suit, and Latino-themed play written and produced by the legendary fantasist Ray Bradbury. She was featured in a pilot with Robert Ben Garant and Thomas Lennon of Reno 911, (also screenwriters of the Night at the Museum franchise, and authors of How to Make Movies for Fun and Profit). And she played the title role in the award-winning film, Desdemona: A Love Story, all before she 'died' in B-5.
Since then, Cindy's continued to grow. "I just finished two films," she told Se Fija!. "Polterguys and Nuclear Family [both directed by B-5's Kyle Rankin]. And I'm currently working on a feature comedy called Gawd. As far as modeling goes, I just shot a campaign for Motorola and Bio Ionic."
And then there's the musical side of Cindy. She started as a musician, and that's never stopped. "My single is to be released later this year," she told Se Fija!, "but believe it or not, I don't play saxophone on it. It's a dance track I did with Jelly Whale Entertainment. It was my first recording and I had fun."
You can keep track of Cindy by bookmarking her excellent web site, or joining her Twitter or Facebook pages. But you don't really need to: you're certain to hear much more from her in the future.
One thing's for sure: she's not dead yet.
Vela photo: ©2012 Angela María Ortíz S.