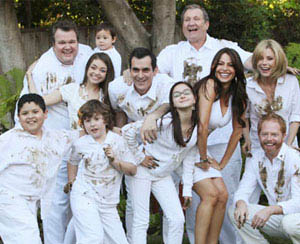 With only two nominees in the 'top tier" categories, it's far from a banner year for Latinos in Hollywood. Melissa McCarthy of Mike & Molly and Joshua Jackson of Fringe woke up very early to do the honors (and McCarthy was awfully cute when her own nomination for Outstanding Performance by an Actress in a Comedy was revealed), but there were very few surprises to be seen.
Congratulations to Sofia Vergara for Outstanding Supporting Actress (joining many of her co-stars from Modern Family, who submitted their names together as an ensemble), and especially to Edgar Ramirez for his nomination as Outstanding Performance as an Actor in a Mini-Series for Carlos on HBO. But they stand alone as the only two nominees in an increasingly large number of actors, writers, and directors, where Latinos are noticeable in their absence.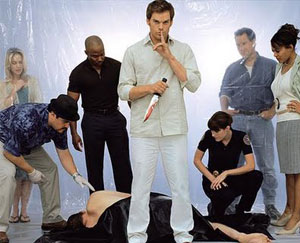 There is a secondary message here: behind the scenes–in camera work, special effects, sound editing and elsewhere–Latinos have become a permanent part of the team. For example, Hector Ramirez, one of the country's most sought-after camera operators, is listed no less than five times in various subcategories as part of the camera team on everything from The Kennedy Center Honors to American Idol. As part of the permanent 'background' of the industry, Latinos continue to contribute and even lead…but it is equally worth noting the stark absence of Latino names at the very top of the pyramid: as producers, directors, head writers, casting agents, and creators.
It has been a difficult year for Hollywood, one of a series of difficult years. It's encouraging to see that three of the six nominees for Outstanding Comedy Series–Modern Family, The Office, and Glee–all have strong Latino contingents in front of the camera, and it's good to see Dexter, with its equally impressive record of Latino performances, get the nod for Outstanding Drama Series. But it is more than a little disappointing to see the work of (yes, already cancelled) shows like Law & Order: Los Angeles and Off the Map go unnoticed, and individual accomplishments of actors like Lauren Velez of Dexter, Raymond Cruz of The Closer and Kiele Sanchez of The Glades—to mention just a few—slip by without a mention. Unfortunate and a little amazing, too, that long-time and well-respected writer/producers like Rene Echevarria (most recently Castle, then Teen Wolf, and now the upcoming FOX program Terra Nova) and Roberto Orci (Hawaii Five-O, Fringe, and so much else) are nowhere to be seen.
Of course, there's always the future…and let's take some encouragement in the nomination of two programs for young adults that star young Latinas: Victorious with Victoria Justice and the venerable Wizards of Waverly Place with Selena Gomez. Maybe things really are changing.
Latinos are certainly not as invisible in Hollywood as they once were, but 2011 will not be remembered as a year where the status quo changed in any significant way.
And another year begins…
The Awards ceremony is scheduled for 8P on Sunday, September 18 on FOX. We'll keep watching from now 'til then.