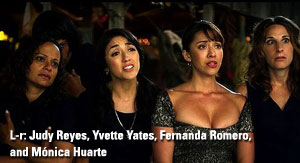 Gabriela Tagliavini's lovely and strange new film Without Men has a stellar cast, a fascinating concept, and a surprisingly rich, romantic context…that, even before it's been seen, is being sadly, completely misunderstood.
Without Men is part of Maya Distributor's "Seven Movies in Seven Days," and it had its official opening last Friday in Los Angeles. Eva Longoria, Kate del Castillo, Christian Slater and Oscar Nuñez head a large all-star cast–many of them long-time friends and colleagues of Tagliavini–to tell the intriguing story of a small town in South America where all the men have been taken away by an oppressive government, and the women have been left behind to build a society of their own, on their own.
Based on James Canon's Tales of the Town of Widows, the characters, concept and look of Without Men owe a great deal of the "magical realism" of writers like Jorge Luis Borges and filmmakers like Pedro Almodóvar. Though it's not a political film or an erotic film, there are important (and inevitable) aspects that answer to both. But at its core, it's a story of character and love, and for all its gentle comic intent, it's a serious and touching film as well.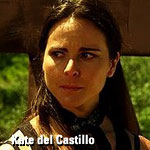 Unfortunately, almost none of its potential viewers or critics know that. All they seem to remember at the moment is the thirty-second clip of Longoria and Castillo in a passionate kiss. It's true, there are a series of gay relationships in the story–not exactly surprising in a community made up entirely of one gender–but Without Men is no more a "lesbian movie" than Cast Away is about equatorial ecology, or The Perfect Storm is about commercial fishing. It's an element; it's not a defining characteristic. But bad timing and the uncontrollable power of the internet made that thirty seconds of same-sex sex all that the movie was about for far too many people, and ultimately it may affect its ability to gain wider distribution or attention.
This is Argentinean director Tagliavini's fourth feature. Her 2003 film, Ladies Night, was the #1 movie in Mexico's in 2004 and won three MTV Latin Movie awards. Even its soundtrack went platinum…but it sank without a trace when it was finally released in the U.S. in 2007. Her first film, The Perfect Lover (also known as The Woman Every Man Wants) earned her a Best Director at three international film festival in 2001, and was feature at film festivals in Munich, Argentina, and 9 other countries. And her TV movie for Viacom, 30 Days Until I'm Famous, premiered on VH1 and was exec-produced by Madonna. She's even an acclaimed novelist, with two well-received novels to her name.
And for all that…Without Men is still having trouble finding wide distribution. And the "lesbian movie" label may be all it takes to scuttle the ship entirely.
Let's hope not. Let's hope its week of limited performances in L.A. is just the beginning.