This is Where I Leave You


I didn't expect much from this film but I have to admit, I enjoyed watching this dysfunctional family—from the matriarch, played by Jane Fonda and all her offspring's played by Jason Bateman, Tina Fey, Adam Driver, and Corey Stoll. There's chaos, humor, heartache and redemption that only families can provide. Also adding some good performances are; Kathryn Hahn, Rose Byrne, Connie Britton, Abigail Spencer, and Dax Shepard.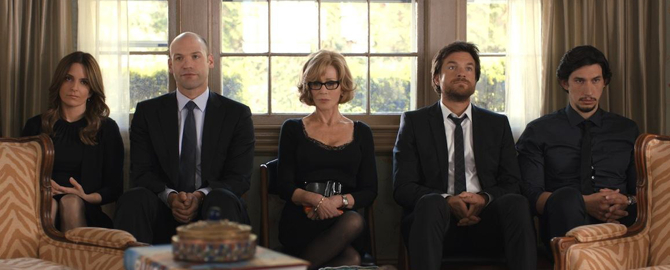 L-r: Tina Fey, Corey Stoll, Jane Fonda, Jason Bateman and Adam Driver
Tusk
It's hard to truly describe this film except that it's a mixture of horror, comedy, drama, walruses and your imagination. The film is based on an idea writer/director Kevin Smith talked about on his podcast for sometime—He talks about the making of the film in the video below with our friend Teresa Garza of ChecaLaMovie. It stars Justin Long, Michael Parks, Génesis Rodríguez, and Haley Joel Osment.