When Yvette Yates enters the room–whether it's empty or full of people–you have to look at her. It's not just because she's beautiful (that's a given; she's a movie star in Latino Hollywood). It's more than that–it's an  energy that just flies off her from the moment she arrives.
She's a laugher. A hugger. A tiny (well, 5'3") whirlwind of positive energy, and Se Fija! was were lucky enough to spend some time with her late last year and talk about where she's been, what she's doing now, and where she heading.
Yvette's only been at this a few years, but she's come a long way in a short time. She was nominated for an Imagen Award for her first short, Niña Quebrada, just when she was getting started. She was in Without Men, she starred in the web-based romantic comedy series Ylse, that won an Imagen Award in its first year. She had a supporting role in the indie cult fave I Hope They Serve Beer in Hell. She even voiced a character in the hugely popular video game, Red Dead Redemption. And she has no less than five movies in the can (or nearly), all of which will appear in 2012. And she's still locked in forward gear.
What's most amazing, is how quickly it's all happened. It wasn't that long ago that she was at UCLA, getting a B.S. in Physiological Science.  "Education is really important to my family," she told us. "ever since I was a little kid. Education empowers you—I've always grown up with that mentality." Yvette was successful in that field as well–she participated in field studies, co-published a peer-reviewed research paper, and planned to enter medical school. "I had the lab coat, the goggles, they tested me for radiation. It was insane." She even took the MCAT. ("It's about eight hours long, and when I was done, I was like, "Oh, my God, I DID IT!"). But as she was looking at medical school packages…something happened. "For whatever reason" she said, "I realized I wanted to try acting. I hadn't studied it, but I wanted it. So it was either put myself full force into medical school, and be there 100%, or try acting…and not know what could happen."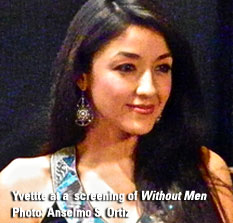 It took her a while to tell her family. "About four months," she recalled. "We're a strong family–very close–but I just didn't know how. How do I even say it?" And it was a shock to her family, especially her father, who was already familiar with acting (he was President of Azteca films for a time in the Eighties). "But they supported me," Yvette said, "from the very beginning. They said, 'You can do what you want, but…that's a big change!"
She began with no contacts and no formal training, All she had to her name was a little bit of extra and stand-in work on shows like Resurrection Boulevard, Greetings from Tucson and American Family when she was still in college. Still, that was something, she thought. "It gave me a nice grasp of how to work on set, the verbiage, how to treat the crew. It's really appreciating everything from behind the scenes — a great foundation. I realized then that I'd learned what I needed to learn. I knew I needed to do something to step it up." So she went to work for Payaso Entertainment and Scott Montoya, where she helped produce more than a dozen stand-up concert films, including Latin Divas of Comedy and Hot Tamales.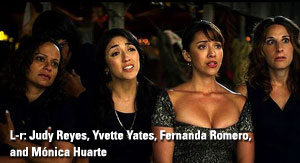 "It was great," she said, "I was providing a spotlight for women of diverse backgrounds. We were saying, 'Hey, here I am, I'm funny and I can do this, we come in all different colors–hot tamales of different ethnicities.' Scott's still producing those, and I still go to support him. I think that's important."
But after a couple of years of successful work, Yvette knew she had to focus on acting. So she left Payaso and started going to auditions, talking to producers. And it's been a rush from one project to another since then.
"I didn't have any footage," she recalls. "I didn't have a manager. So I did a lot of shorts." It was a good place to start, and one of her first–the internet series called Ylse–actually garnered an Imagen Award in its first season. "I was so happy," she said, laughing in obvious delight at the memory. "I have to give props to the Imagen Awards. It didn't matter to them that I was new and didn't know anybody. It was about the acting, and that meant a lot to me."
It was a start…and it was all she needed. Soon she was working on independent films as well as shorts. She came into contact with Latino Hollywood's "A" list with more and more frequency, culminating in her role in Without Men, produced by Eva Longoria. And it hasn't stopped since.
Just recently Yvette was in Sarasota, Florida, shooting Shana Sosin's Free Ride, a  passionate and personal film on women and their daughters trapped in the marijuana trade. Anna Paquin plays the mother, opposite Yvette as an undercover agent. "I'm tough, which is fun and different for me. And it's based in the 1970's. We're all dressed up, with the feathered back hair, and super-tight jeans." Then it was off to Baton Rouge and Bulgaria, to shoot Eduardo Rodriguez' El Gringo. "I had the most amazing time. They told me I got the role at the premiere of Without Men at the Egyptian Theater in L.A. My family was with me, so I got to share the news with them right there. Who would have thought I'd get to travel and work and do what I love, in a very cool production–and I get to work with Christian Slater again, for the second time in a year. 'What's going on here?' I ask myself. 'I used to watch you on TV and films, and now I'm working with you.' It's amazing."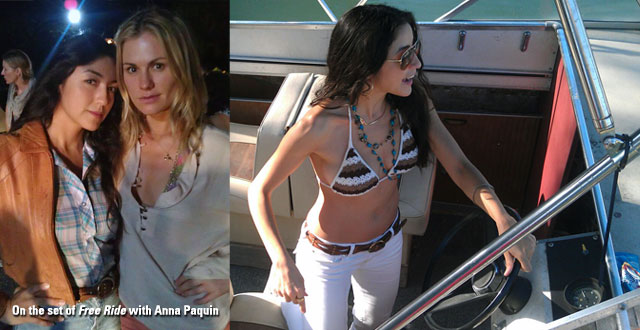 El Gringo is clearly one of her favorite current projects. "I'm the female lead, a fierce independent strong-willed woman in a border town. I deal with knives, I get to do my own stunts–I did it myself, no body doubles! And I learned about myself, because for me, I didn't study acting. I kind of go into myself and my own feelings and what I go through in my head as this person. I envelope myself in the character, and it is so much fun.
By this time, too, Yvette is feeling more confident–more assertive. In El Gringo, the character she played was originally meant to have a Latino accent…but that didn't work for her. "I talked to the director," she said. "I told him, 'I'm from a border town. I'm from El Paso/Chihuahua. And I want to show that we also speak English, and we look like this, and we can be these tough, independent characters, and be who we are. And he said, 'Go for it.' I was like, 'Thank you.' I think if we act, step in, make our voice heard, people will listen. And we forget that sometimes, we just take it for granted, and say, 'Okay, sure.'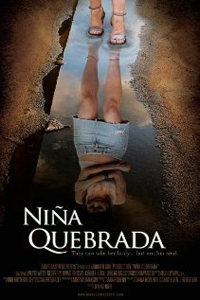 Not that this level of commitment is easy–or even entirely safe. While working on El Gringo, she really got into a fight scene in a bar. "We were doing a stunt. This guy was pulling my hear, pushing me around, and I have to be emotional, say my lines and focus on the stunt. But I'm thinking too much of the acting. So I said, 'Just do it.' He said, 'I'm going to hurt you,' and I said, "I don't care, I need to feel it so I can react." He said, 'Okay …' And that was it. It was amazing. Every time I do something, I learn something about myself. That's really fulfilling."
Though Yvette herself is bubbly, enthusiastic, full of positive energy, she admits–many of the characters she's drawn to are rather dark. Even her earliest roles, like Lucena in Niña Quebrada. "I love the topic: human trafficking. And it's from a female producer and director team, which is very cool. And even though I've had a great family, I found it so very easy to go there, to go into that world. I learned so much; it was great, it opened the doors and led to a hosting a program on human trafficking. There are films that we do that are entertainment and films that speak to the masses. I think that's kind of amazing, that we can speak through film."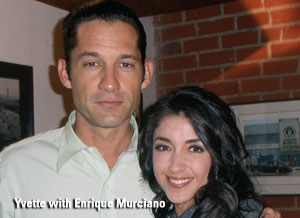 And there's even more in the works, like Water and Power, from Richard Montoya of Culture Clash,  "That was fun because of all my fellow Latinos," she said. "I mean–Enrique Murciano played my boss, Water!"  And she has one horror film, The Red House, from writer/director Gregory Avellone already in the can, and the way-out-there slasher film, Sorority Party Massacre just one step behind it. "A very intellectual, deep picture," she says, barely able to hold back the giggles. Bits and pieces of the picture have been shot for months; a fairly large chunk was finished just in December, and it's expected to appear late in 2012. "I play a dominatrix," she says. "She could be the killer…or maybe not."

And just recently, only a few days ago, we got additional news: Yvette's will be the guest star on an early episode of actor/comedian Nick Kroll's new sketch show on Comedy Central, The Nick Show Kroll (yes, that's right)–a real chance for her to flex her comedic skills, and get even more visibility (and who knows, she might even become a regular).
All that may cover the near future…but what about the years to come? A hard-driving, well-focused young woman like Yvette must have some ideas of what she'd like to find over the horizon. "Ten years from now," she confides, "I still want acting to be the focus…but I also want to get to the point where I can also have charities and be part of programs that are important to me, like the sciences and education and border town. I'd love to be an activist and help that part of the world I come from. I'd love to be able to cause change and be a voice for that. And I'd love to be at the point where I can help other Latino actors, create projects and produce as well." She remembers the extraordinary reception she received when she work on Without Men. Here she was with some of the best-known, most influential Latinas in entertainment…and they treated her like an equal. "They were able to see past if I had a name or no name," she said happily. "They gave me the opportunity. It didn't matter. For me, I want to get to that point, where I can cause the same change for someone else, too. It's just about being good at what you do, seeing past just the lights and the shiny, glittery things–getting to the core of Who are you?, Do you come from here? Show us what's out there."
Her conviction is a pleasure to watch. "I feel very strongly about what I do," she says with great firmness. "People are like, 'Why are you doing this?' and I tell them, 'I have to do it.' When we're doing it, it's not even like work to me; it's playtime. It's an art. You can't help it: once I'm doing it, I just want to do it again. It's exciting. So if in the future I'm not doing features, I'm doing shorts—that gave me my start, there's karma in that. If I can be part of a good project with up-and-coming filmmakers and writers and directors working together, then I'm there, no questions asked. I'm still doing that. I always will."
You talk to Yvette for more than thirty seconds, and you want to join up. The enthusiasm–and the laugh–is entirely infectious. Talk to her and you want to be part of what's coming next. You want good things to happen, and happen now. "I need to build," she says. "I'm a big believer that you have to work to get where you want. Put in your time. Show them you can do this, Give me a role, and I'll do it. 2011 was a year for just that. And I hoping this year will be the year—the catalyst."
You can't help but look at this dynamic young woman who's already accomplished so much in so short a time and think 'She can do this.' And aloud you say, "I'm excited to see what happens next."
You're not surprised at her answer, delivered with a dazzling smile and an infectious laugh: "Me, too!"
Photos of Yvette Yates: ©2011 Angela María Ortíz S./additional photos, courtesy of Yvette Yates