The star of the new STARZ Network series, Magic City, talks to Se Fija! about his work on TV, film, and stage…and about what it mean to be a working actor, with the accent on working. 
He's here, he's there, he's everywhere. Yul Vázquez really is one of the hardest-working Latino actors in show business.
He appeared for the first time in Mambo Kings a full twenty years ago, and his chiseled features, rich voice and deep, dark good looks have been making a great impression ever since–as Bob in Seinfeld, in Traffic and War of the Worlds and Che and The A-Team, and most recently in two independent films, Salvation Boulevard and John Sayles' latest, Amigo, not to mention a great run in the Broadway production of The Motherf***r with the Hat. And now, finally, Yul has the TV showcase he deserves: Magic City from the STARZ Network, the story of mobbed-up Miami in glamorous, dangerous 1959, with Jeffrey Dean Morgan, Danny Huston, Kelly Lynch, and Dominik Garcia-Lorido, daughter of Andy Garcia. Se Fija! spoke with Yul recently about Magic City, his many others projects, and his advice for future generations of actors.
One thing is clear: he's very high on Magic City. "Its about as good a television show as you're going to see," he told us. "Quality across the board." STARZ seems as committed to the project as Yul; they've just taken the unprecedented step of renewing the series for a second season before the first season even premieres. "It was  incredibly exciting to have that happen on the day of the LA premiere. It deserves it and them some."
One of the many things about Magic City that attracted Yul was the opportunity to play a Cuban–his own heritage. "I've played Puerto Ricans, I've played Egyptians, Israelis. I play a lot of Italians, believe it or not. And I've gotten a chance to play Cubans, but not as often as you might think. I'm excited to get the chance now."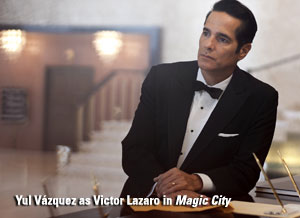 Not that his work on the series is all that's coming up. Yul has recently been added to the cast of Captain Phillips, the new feature on the real-life raid on the Somali Pirates, starring Tom Hanks and directed by Paul Greengrass (Bloody Sunday, The Bourne Supremacy and Bourne Ultimatum, Green Zone.) Its filming right on the island of Malta, and Yul is about to join the crew. "I don't know what I'm going to find there," he told us. "Hopefully it's cool."
Meanwhile, many of his TV and movie fans aren't acquainted with Yul's stage work. He called his time on Mother**er With the Hat a "life-altering experience" for him. "It's a hoot, but it's also  very deep play about addiction." And he was excited and grateful for the Tony nominations it received. "Great for the whole company," he told us. "At every level." But is acting for the stage different than acting for film or television?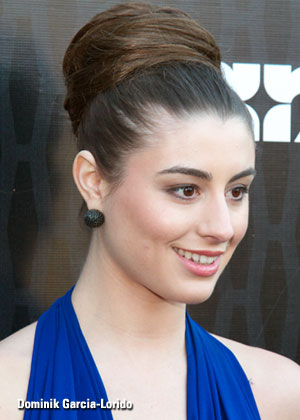 "Acting is acting is acting to me," he said. "There are technical differences. But the interesting thing about doing a play is that the whole thing unfolds in sequence every night, so you are sometimes afforded more of the opportunity to lose yourself inside the character, because there's no stopping or starting—ever." A play is a huge time commitment as well, so Yul is careful about only taking on the stage roles that mean a great deal to him–as well as of the work he does with Labyrinth, the theater company he helped create.
In earlier interview, he called Labyrinth, "insane bikers with scripts," and he laughs at the description today–not that he denies it. That's kind of what it feels like," he admits. "Honestly, we never thought it was going to be much; we just wanted to have a place to work, do improvs…and it just kind of grew and grew. It's a giant thing now, but we still do really interesting stuff–and only brand-new plays." Labyrinth will be opening a new play on April 5, Ninth and Joanie, about an Italian-American family in Philadelphia. You can learn more about it here.
Yul also took a moment to offer some advice to young Latino actors who are trying to break in. "I'm going to be very specific about talking to Latin actors," he said. "But I hate the term because I think we're just actors. Some of us happen to be French, some of us happen to be Cuban, or Bulgarian. But for that young Latin actor: forget that you're Latin. Just forget it. I see Latin actors saying, 'We're not getting the opportunities, we're being discriminated against.' That's a waste of time. Just work—work as hard as you can, be as good as you can be, and forget that you're Latin. You're an actor. The way that you look is what will get you a job…and it's the same thing that will cost you a job. But just work."
Magic City premieres Friday April 6, exclusively on STARZ at 10P ET/PT. You can get a behind-the-scenes glimpse of it right here:
Photos: ©2012 Angela María Ortíz S.