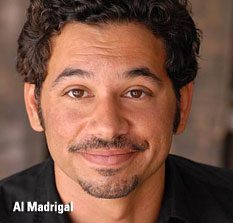 The four networks–ABC, CBS, FOX and NBC–have an impressive total of 24 scripted shows with Latinos in the lead or supporting cast this Fall…but the distribution between the networks is way, way off. NBC clearly leads the way with ten programs, both dramas and comedies, that have a significant Latino presence. ABC provides a strong second with eight, while FOX and CBS have only three each–a particularly poor showing for CBS, a network that programs three hours a night compared to FOX's two hours.
The split between the networks has become clear just as the season's starting; so many established programs are adding Latino cast members and regulars this season that it's become harder than usual to keep an accurate scorecard. And every network is getting into the changing game, from CBS' Blue Bloods, to NBC Harry's Law to ABC's Private Practice to FOX's House and more.
NBC has at least one program featuring Latinos from Monday to Friday, and a couple of nights there's a Latino in almost every scripted show of the evening. You've got Eddie Cibrian starring in The Playboy Club on Mondays, Sarah Ramos in Parenthood on Tuesday, and Wednesday chock full o' Latinos with Al Madrigal in Free Agents, Karen Olivo joining the cast of Harry's Law (not to mention Alfred Molina's early-season multi-episode arc), and Danny Pino becoming a regular on Law & Order: SVU. On Thursdays, Mel Rodriguez from Running Wilde is becoming a regular in Community, Aubrey Plaza is still part of the Parks & Recreation ensemble, as is Oscar Nuñez in The Office, and both Kirk Acevedo and Elizabeth Rodriguez are co-starring in the new Prime Suspect. Fridays, you'll find Josh Gomez an essential part of the returning Chuck for at least one more year, but there's nothing new on Saturday or Sunday–though interestingly, none of the four networks is offering original programming on Saturdays and very little on Sundays.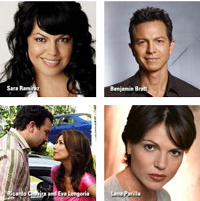 ABC: Not Bad at All at Eight
Castle with Jon Huertas returns on Monday, Hector Elizondo is Tim Allen's bosom buddy on Last Man Standing on Tuesday, Sofia Vergara and ALMA Award-winner Rico Rodriguez are both back on Modern Family on Wednesdays, while Thursday is All Latinos, All the Time, with Ramon Rodriguez as Bosley in the new Charlie's Angels, Sara Ramirez still practicing on Grey's Anatomy, and Benjamin Bratt heating up Private Practice. You won't find any Latinos in Thursday and Friday programming, but Sunday's anchor, Desperate Housewives, is still with us for one more season; Eva Longoria and Ricardo Chavira continue to shine there. And beginning October 21, you'll see Lana Parilla on Sundays, in ABC's new fairy tale/crime drama Once Upon a Time.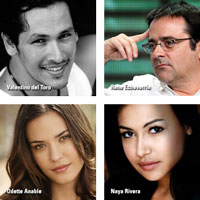 FOX: A Distant Third
The new Spielberg sci-fi/survival drama Terra Nova has Valentino del Toro as a regular member of its extensive ensemble in front of the camera and Rene Echeverria as executive producer. House shows up an hour later on Monday, where you'll find Odette Anable joining the cast. And of course ALMA Award winner Naya Rivera remains a vital part of Glee on Tuesdays…though that's about it for FOX at the moment (look for more at midseason).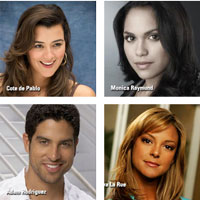 CBS: What the—?
Three shows. Three, and none of them new (though there's a new Latino cast member on one of them). You'll still find ALMA Award-winner Cote de Pablo on NCIS on Tuesday, while Monica Raymund is joining Blue Bloods, and both Adam Rodriguez and Eva La Rue are sticking with CSI: Miami. But for all its hours and hours of programming, rivaling NBC and CBS with new and returning scripted shows…that's the best they can do.
Hard to understand how CBS programming, continues to trail so far behind the other networks–even FOX. But all in all, thirty shows on the networks–not even including The CW (which has a couple of shows with Latinos as well) or 'free' cable like TNT and AMC or 'pay' cable like HBO or Showtime–is pretty impressive!