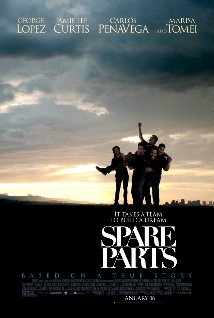 In Spare Parts, four Latino students from a very impoverished neighborhood form a robotics club at their high school. Although they have no experience, the youths set their sights on a national robotics contest. With the help of their high school's newest teacher (George Lopez) and with $800 and parts scavenged from all over the place, they build a robot and compete against reigning champion MIT.
The film is much more than that, because along the way, the students not only learn how to build a robot they learn how to forge bonds that will last a lifetime.
A very inspirational film starring Jamie Lee Curtis, Carlos PenaVega, José Julián, Alexa PenaVega, Marisa Tomei, Esai Morales, David Del Rio, J.R. Villarreal, Romi Dias, Oscar Javier Gutierrez II, Alessandra Rosaldo, and Gerardo Ortiz. Directed by Sean McNamara.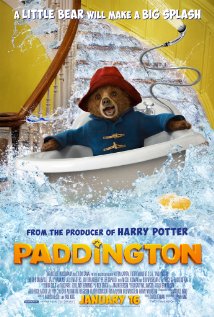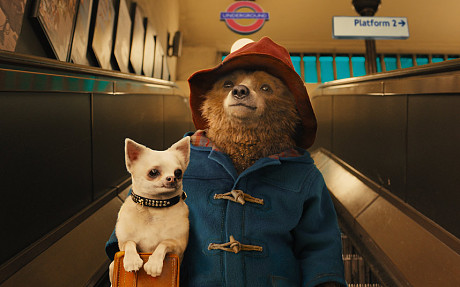 Paddington the film is based on "Paddington Bear" by Michael Bond. After a deadly earthquake destroys his home in the Peruvian rainforest, a young bear makes his way to England in search of a new home. The bear, dubbed "Paddington" for the London train station, finds shelter with the family of Henry and Mary Brown. Paddington's amazement at urban living soon endears him to the Browns, but someone else has her eye on him, Taxidermist Millicent Clyde (Nicole Kidman) has designs on the rare bear and his hide.
The film stars Hugh Bonneville, Sally Hawkins, Julie Walters, Jim Broadbent, Peter Capaldi and Ben Whishaw as the voice of Paddington.