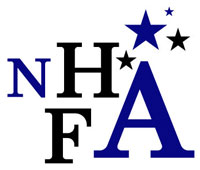 We mentioned the National Hispanic Foundation for the Arts in our recent post (scroll down) about how uncomfortable we're becoming with self-induced Latino stereotypes on shows like ¡Rob! and, potentially, on shows like Devious Maids, now in the pilot stages with ABC.
The NHFA read what we said and responded on Facebook; we thought we'd share it here with everyone:
These shows are particularly perplexing because the cast has to tone down "beauty," to achieve authenticity. Every great actor loves a challenge, which may mean gaining weight, or looking dowdy, etc., but it compounds the "image visualization" of our community. While it's art to explore these areas of familiarity, we are led down a dark alley waiting for yet another media mugging. We applaud the effort to expand the presence of Latinos on TV; now if only the networks could expand their concept of Latino modernity.
Thanks to the NHFA for the response. Certainly something to think about…and to be aware of as both these shows, and many others, develop.