She has a career that goes back to the 70s, in television, film and stage.
Actress Teresa Yenque was awarded the 2012 Reel Rasquache Art & Film Festival Trailblazer Award at the May 20th festivities and Se Fija! was in the midst of things.
Ms Yenque is a true pioneer in Spanish-language theatre, and one who has paved the way for many others. Leaving behind her native Peru at just 19, she had the courage to follow her passion and begin to train in some of the New York theatres where she would later perform. Back in the days when roles available to Latina women were scarce and often limited to maids and streetwalkers, Teresa was not dissuaded by limitations. She played every role the way she still does, with professionalism, 100% commitment, intelligence and passion.
Her long flowing hair and her beautifully expressive eyes have become just as much her trademarks as her generosity and humility as an actor. As things evolved, so did her opportunities, and she was right there, ready every step of the way, to dive into diverse roles and genres, from musicals to classical theatre, from farces to serious drama, branching out into English-language roles in addition to Spanish.
Not only did she mentor, nurture, and set an example for her fellow cast members at every stage of her career, she has also constantly supported young up-and-coming playwrights and student filmmakers by participating in their projects whenever she can. Even during her curtain calls, she generously throws the love and appreciation right back to the audience and fellow artists.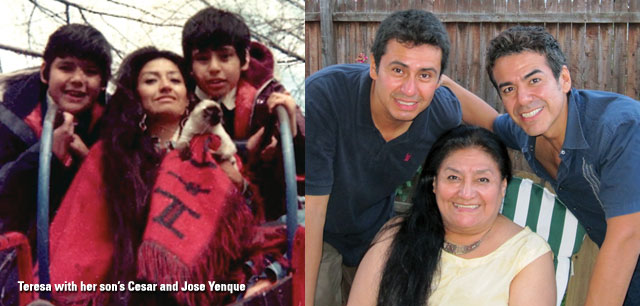 Even though she is the past recipient of major and prestigious awards/honors such as ACE, HOLA, Palmas de Oro, among others, she still seems genuinely surprised and humbled when someone asks for her autograph or a picture with her. Yet she has been applauded by audiences from Spain to El Paso, from Broadway to the Kennedy Center, and has earned every decibel of that applause and every one of those curtain calls.
Her passion never faltered, and in the 80's she began doing television and film work, continuing to wow us. Since then, she has appeared on an impossibly wide range of popular TV shows, including 30 Rock, The Sopranos, All my Children, One Life to Live, and so many more. And who could forget her heartfelt performance on Law & Order? It's almost impossible not to have more than once chance encounter with Teresa while channel-surfing, nigh or day. But Teresa has never traded the wings of the theatre for the sound stage of a studio. She managed, and still manages, to make them both happen.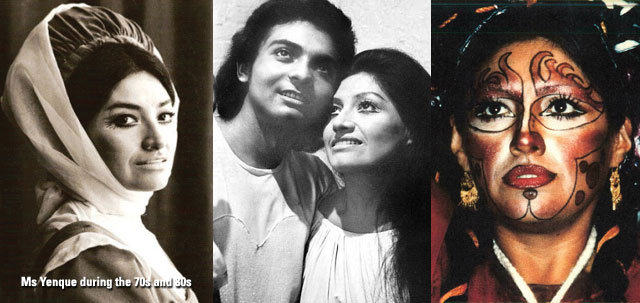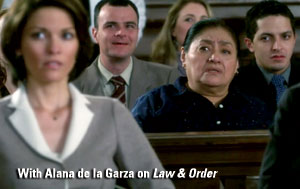 Actually, that and so much more. Teresa has built a family at the same time she's built a career. As her son Jose–an actor himself–tells it: "When your mom is Teresa Yenque, your childhood goes a little bit different than the other kids on the block. As kids I remember my brother Cesar and I sitting in the first row of a theater—usually it was Intar or PRTT or Spanish Rep—mesmerized, watching this wonderful woman come to life with some of the most unforgettable characters! We'd be lost in the drama of the play she was in. Now, there is only so much Lorca a seven-year-old can understand, or take…but it was enough to keep us in our seats, sometimes in laughter, sometimes in tears, but always in the first row. It wasn't until much later, when I tried my hand at acting myself, that I came to realize just how much talent and hard work those roles took, and how much energy it must have required to do all that while raising two young boys on her own.
"We are beyond proud that we're the sons of a pioneer of the New York theatre scene."
Over the past 40 years, Teresa Yenque has had some amazing roles that she brought to life again and again with such passion and force. "We can't wait to see what incredible roles the next 40 years will bring her," says Jose, "and one thing is for sure: we'll still be right there in the front row!
Always! Brava, Tere!!!"