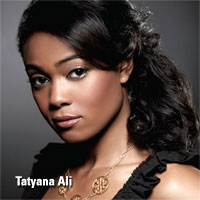 Sometimes cruising the cable channels is like cruising the Caribbean a hundred years ago. There are hundreds of uncharted islands. Some speak strange languages. Some are dark, mysterious, uninhabited. And some are surprising little jewels you didn't even know existed.
We confess: TV One was one of those uncharted islands to us, until we caught up with Tatyana Ali, once the little sister on the Fresh Prince of Bel Air…and found that this beautiful young actress (her mother a Panamanian nurse, her father a retired police officer from Trinidad) has been working steadily right there on TV One, in a cute little sitcom called Love That Girl, in which Tatyana is that girl in question, that's just now begun its second year.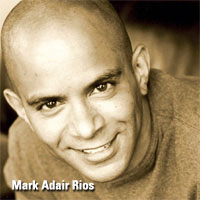 Love That Girl isn't going to win any Quality TV awards. It's a broad, silly "girl on her own" comedy with Tatyana at the center and another Latino actor, Mark Adair-Rios, playing one of the gayest Latinos on any network, any time. But it's fun and well-meaning and anything but cruel. You could do far worse on the netherchannels of cable TV (or the networks, for that matter).
We could go on and on about Tatyana. She's been working in "the industry" since she was four and a half. She broke in on Sesame Street–no, seriously, Sesame Street–and one way or another she's been working ever since. You can still see a hint of that plucky young girl who grew up in front of us on Fresh Prince, you may remember the album she cut a few years later (and she has plans to do more). You might even remember the months she was on The Young and the Restless or her turn in the basketball cult movie, Glory Road. You probably didn't know that she somehow fit graduating from Harvard (in Anthropology). And that she's picked up a bunch of awards along the way from places like The Hollywood Reporter and the NAACP.
She seems to be happy and comfortable with herself and her career. We caught her in a great interview on KTLA Los Angeles' morning show–take a look at it here. And then we went and dug out the info on TV One, a cable network that's building itself up as an alternative to BET, starting with repeats of all the best African American sitcoms from the last thirty years, and slowly, steadily growing into original content (a bit like TV Land today, and USA not so long ago). They're doing pretty well, too: TV One can be found in most major metropolitan areas and on DISH, with a total viewer base in excess of 38 million. It's even owned by megamediagiant NBC/Universal Comcast.
Catch up with Tatyana. You can see the most recent episode here, or get real nostalgic and catch episodes of Fresh Prince Wednesdays at 8P on TBS. In any event, it's nice to see Tatyana again, all grown-up.