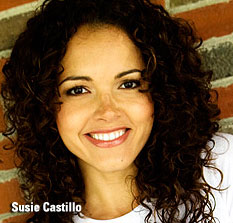 Susie Castillo is one of our favorite people. We talked about this every-busy, dynamic young woman last November right here–about her life as an actress, an author, a TV host, and a Tweeter…and it was a tweet today that reminded us of her latest project: More Than Stars, a sweet independent film about growing up and taking chances, that is premiering March 11 at the SLO Film Festival.
Here's the trailer for it; let's hope it gets some of the attention it deserves. You can follow Susie at @Susie–yes, that simple!–and we'll all keep an eye out for The Heartbreaker, another independent from Susie, that's looking for a release date, too.
Good luck to More Than Stars!