Actress, author, TV host, tweeter–embezzler?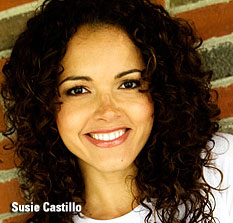 Only on the TV.
Susie Castillo looks like one of those dynamic, ever-busy young Latina powerhouses you'd really like to hang out with…if you could get her to slow down long enough to catch up with her. Most recently, she played a central role as a multi-million dollar (and not terribly successful) embezzler in a recent episode of Castle; you can catch it here on abc.com  on hulu.com, click here.
Soon, she'll be seen in A Holiday Engagement, a cute little rom-com where she plays the ex-girlfriend (check out the clip below), and there's another indie film More than Stars. We've put a clip from Holiday Engagement up on our YouTube channel–click here to take a look at Susie being cute and just a little crazy.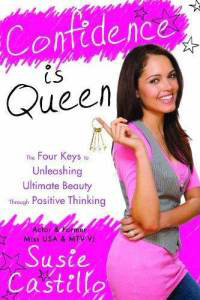 And that's just this week. Susie is most definitely in motion and pointed towards the future. Not so long ago there were all those countless MTV and TRL shows she hosted. And she's a national spokeswoman for Neutrogena (the most prominent Latina in the group of famous, beautiful women), as well as a tireless worker for non-profits I am That Girl, a non-profit with the goal of inspiring confidence in women. Way back in '03, Susie was Miss USA; just last year, she was one of the hosts of NBC's reality-benefits series School Pride, that gave more than $2 million to 9 public schools around the country for permanent upgrades and improvements. (You can still see all those episodes, too, right here. Still not enough? Susie's an author, too–way back in 2007, she wrote Confidence is Queen: The Four Keys to Ultimate Beauty through Positive Thinking (you can click on the name and buy it at Amazon.com right now).
She's got a web site  like everybody else, but with a life as zoom-zoom as this one, it's hard to keep it up to date (though she does add the occasional great recipe there–yes, she's a health-food advocate too.). The best way to follow Susie is probably her Twitter feed. She's is a mad tweeter, that keeps you up to date on what's she's up to now and tomorrow. You can find that right here.
We're happy to have a Latina as high-energy and positive (in every sense of the word) as Susie. But boy, watching her can be exhausting…in a good way.