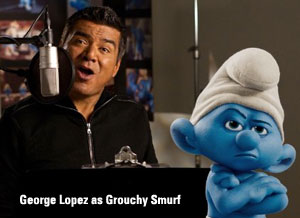 Critics really don't matter anymore. There are so many of them, spread so thinly, among an internet landscape that's all about Friends and Likes and Referrals, that the professional opinionizers from the New York Times or the Chicago Tribune or even Some Guys at the Movies on TV don't affect the fate of a film nearly as much as they used to.
That's been obvious for quite a while for regular views of review-aggregators like Rotten Tomatoes. Particularly since RT add an "Audience" score side-by-side with its "Tomatometer," a percentage of positive reviews about a particular film.
What do you see? That often as not, regular people who see the movie, for whatever reason, have a vastly different group opinion than the critics…and they make the movie a success.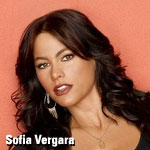 Here's one interesting point: in a movie summer sorely lacking in Latinos up front in the blockbusters, they are deeply embedded in the cast and crew. Sofia Vergara has one of the more prominent parts in The Smurfs, and George Lopez is the voice of one of the dozen or so Smurfs themselves, along with folks like Jonathan Winters and Katy Perry (his second big voice job, after Rio, earlier this year). And though there are fewer Latinos than one might expect in a good old-fashioned Western, Cowboys and Aliens does have a few worth noting, including Ana de la Reguera, Julio Cedillo, and Raoul Trujillo. And of course it's co-written by one of the most successful creators in Hollywood today, Roberto Orci.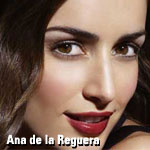 All of which gives us a place at the table as the analysts gather around to look surprised. They all expected Jon Favreau's alien invasion picture to blow past a strange little live-action update of the Eighties TV show, and the pre-premiere reviews seemed to seal the deal. Critics said the Smurfs was "raw and mean-spirited," "a heaping pile of Smurf." They said, "Gosland directs as if every scene must be either a nauseating roller-coaster ride or a syrupy melodrama;" they said "Wearing a CBGB T-shirt, Neil Patrick Harris rocks out with Clumsy Smurf to 'Guitar Hero.' Historians may want to remember this sequence when they're trying to pinpoint the exact moment that rock and roll died." Barely 20% of the reviews were positive.
Slam-dunk, eh?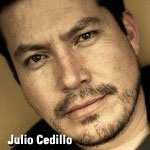 But then…Cowboys and Aliens came out. And most folks went, 'eh,' and didn't come back a second time or send their friends to see it. Critics were only about 43% positive–twice the level of Smurfs, but still not good. They called it things like "a phenomenally successful two-man war against narrative clarity and continuity; no less than the first colossal epic turd of the summer." They said, "I'll bet a couple of clever kids could make a livelier movie with a Woody puppet and a Predator doll."
And the audience meter? No what all those reviews said, no matter how much was spent on the promotions and tie-ins, about 65% of the people who saw it liked either movie.
Consequently: both films, critics and cast be damned, made $1.62 million over the weekend. Much better news for Smurfs that Aliens, since the blue guy group's movie cost $50 million less to make, but still: neck and neck.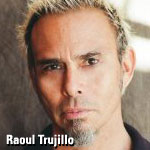 Did the Latino component in either one have anything to do with it? Probably not. Sofia Vergara may have the touch of Midas, but Neil Patrick Harris is no slouch in the cult-cinema world, either, and Roberto Orci can make millions with just about anything he works on (we're talking everything from Xena: Warrior Princess to Star Trek to Fringe. It's certainly true that, across the country, folks like the movies they like, and Latino creatives, in front and behind the camera, and absolutely part of that mix.
But only one thing really seems certain here: "professional" critics are pretty damn useless in the 21st century. We like what we like what we like.