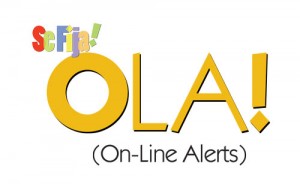 OLA! is our occasional alerts. These are short, unadorned alerts to your mailbox–quick tip-offs on breaking entertainment news, upcoming premieres, or unexpected clips and videos you'll want to know about now–always, always with the focus on Latinos. OLA! Stands for "On-Line Alerts" (okay, it's a lousy pun, we're sorry), and we really do think it will give you even more of what you already like about Se Fija!, first and fresh.
AND, as a loyal subscriber to Se Fija!, OLA!–you'll recieve our Se Fija! Quartely–first and free, basically forever (or until you say stop!). OLA! and the Quarterlies are the best way we can think to say "thanks" for your early and extremely welcome support.
OLA! "On-Line Alerts"
Just complete the form below—c'mon,  it's easy!


Email Marketing You Can Trust