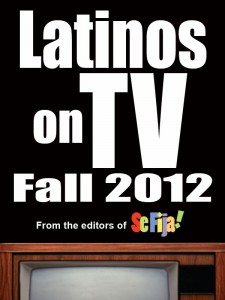 The stars, the series, the schedules and the trends: It's all you need to know about Latinos on television this Fall, on the air and on cable. And it's available on Kindle right here or NOOK right here for only $1.99.
We've put together everything we know about Latinos on TV for the season that's starting right now, including analyses of each broadcast network and the growing trend of original cable programming. Whether it's a Latino in a starring or supporting role, whether they're in front or behind the camera, Latinos on TV has the details: who they are, what they're doing, and where you can find their work.  And all of that info is available for your Kindle or NOOK for only $1.99. Not much for the only Latino-centered TV Guide you'll find this fall!
We'll keep bringing you the latest news on Latinos in Hollywood every day…and now you can't get the info you want for the whole season, right on your e-reader, and available now. Click here for the Kindle version on amazon.com or here for the NOOK version on barnesandnoble.com…and enjoy!