…and just how important they are.
We received this from writer and cultural phenomenon Sandra Cisneros (The House on Mango Street) that…
"Day of the Dead draws near," she said (November 1st for the deceased children and November 2nd for deceased adults), and it offers us an opportunity "to nourish and be nourished by our spirit allies, our family members who have crossed over. Just the opposite of Halloween, Day of the Dead is a day to remember our connections to the other side. These spirits are not ghouls come to frighten us, but ancestors who guide and protect us.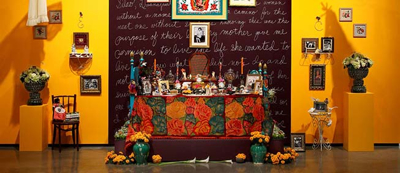 "I am particularly moved by November 1st," she told us, "since it's the anniversary of my mother's death. I will be installing an altar in her honor at the Smithsonian Institution's National Museum of American History and lecturing on that very day at the Smithsonian Institution National Museum of the American Indian in Washington, D.C. At 2:00 p.m. You can listen to my lecture via live webcast." She also announced that the altar will be on display at the American History Museum in Washington, D.C. During the holidays.
You can visit Sandra's website at sandracisneros.com for other news, features, announcements, recommendations, and surprises.