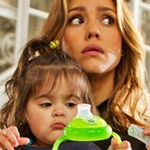 The Spy Kids franchise, created and powered by the sheer visionary chutzpa of writer-director-crazyman Robert Rodriguez, has always been…well, odd. By any standards. The plots are, how do you say, loose, at the very least. The acting is…occasional. And the special effects, always energetic and proudly made on a shoestring, owe more to Salvador Dali than they do to George Lucas.
All of which makes the franchise one of the more intriguing of the last couple of decades, and all of which makes the upcoming 'sequel', Spy Kids 4D: All the Time in the World pretty damn cool.
Jessica Alba, who's been in enough Robert Rodriguez movies to know better, plays the World's Greatest Spy (recently retired) in this one (as far as can tell, and it's her step-twins who strap on the gadget and save  the world from the evil Timekeeper, played–inexplicably–by Jeremy Piven. Former SK stars Antonio Banderas, Alexa Vega, and Daryl Sabara do show up to mentor the newbies, but the focus is on the young'uns, not those old kids (ew!) in this half-sequel, half-reboot.
But the wacky factor is as high as ever, as the new preview illustrates in fall. 3-D isn't enough. It has to be 4-D. And even 4-D isn't enough. It has to have Smell-o-Vision, too  Not since the days of have we seen the bubble machine cranked up quite this high…but what the hell, it's all in good fun. Where else could you see Joel McHale playing it straight, Ricky Gervais as the voice of an ass-kicking terrier, and Danny Trejo as Machete–no, really, Machete, in a movie made for kids.
Good? Bad? Who knows? But one thing's for sure: Robert Rodriguez hasn't changed a bit. Thank God.
Spy Kids 4 shows up in theaters in August; here's the brand new trailer for it: