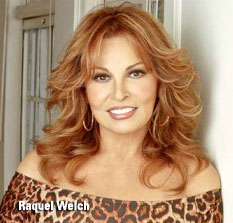 Raquel Welch began her career as just another "hidden Latino" starlet, back in the days of Twenty Million Years BC, Myra Breckinridge, and Kansas City Bomber. It really wasn't until Tortilla Soup, and  American Family, ten years ago, when she played Aunt Dora in a number of episodes, that Welch's Latina heritage came to the forefront; since then she's talked easily and often about it.
She appeared on Ferguson to chat about her upcoming appearance on CSI: Miami, March 11 at 10P. In it, she plays a sophisticated Latina with plenty to hide (or so it seems); you can see a nice clip of it here with fellow Latina Eva La Rue. You can also catch her in the classic 1969 western 100 Rifles with Burt Reynolds and Fernando Lamas, on Saturday March 10 at at 9:30A on AMC. Great way to start the weekend.
You can catch a clip of Raquel with Craig Ferguson here, or watch the whole show online here. In either case, you'll notice that Ms. Welch has lost none of her sass; she and Craig end up talking about recreational drug use, which causes Welch to shrug good-naturedly and say, "I tend to think if things are illegal, they're a little more fun."
Some things never change. We hope they never will.