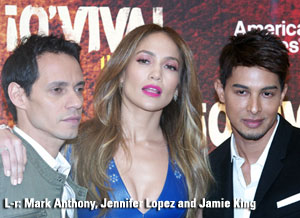 It's already a big deal on Spanish-only Univision, but now the Jennifer Lopez/Mark Anthony talent search/travelogue ¡Q'Viva! The Chosen, will appear on Fox, making it far more visible to the English-speaking audience.
Lopez, Anthony and concert director Jamie King are the real stars f the show, as they travel to twenty countries in search of Latin singers, dancers, and musicians, then bringing them al to Los Angeles or further coaching and live performances.
"¡Q'Viva! is a passion project on so many levels," said Lopez in a statement. "It's really our dream to see it come together. This is about creating a live visual experience about Latin culture, rhythm and dance. I believe that people will be so enlightened, so enriched by this experience."
No word on how different the English version might be, but we'll see in a two-hour premiere on Saturday, March 3. It will continue every Saturday in two-hour blocks through its April 7 finale.
Fox must have high hopes: they're actually bumping Cops to make room for it, and Cops has been on Fox' Saturday night schedule for more than twenty years. In fact, this is the first entertainment programming on Saturday (as opposed to reality shows) that Fox has shown on Saturday night since Married With Children and Love and Marriage way back in 1996.
Over 100,000 people have viewed the English-Language promo for ¡Q'Viva! On YouTube. You can catch it right here:
http://www.youtube.com/watch?v=Ln8hLnH6c3s
Photo: ©2012 Angela María Ortíz S.