By Angela M. Ortíz
I've had the great pleasure of knowing Pepe Serna over the past few years. He's a talented actor, an artist, and philosopher that incorporates many colors as part of his everyday life. We are glad to see him getting some attention after 45 years in the movie business.
Serna can be seen in Dave Boyle's Man from Reno. It has been garnering good reviews (Los Angeles Times) and awards on the film festival circuit. Serna plays a small-town sheriff who is trying to solve a murder mystery with a Japanese crime writer (Ayako Fujitani).
In limited release on March 27.
Below there's a post we did on Serna a couple of years ago, when he received the 2013 Reel Rasquache Art & Film Festival Pioneer Award. As co-director of the festival that year, it was a huge honor for me. He even honored us with a thirty-minute performance of his one-man show, El Ruco, Chuco, Cholo, Pachuco. Enjoy the read.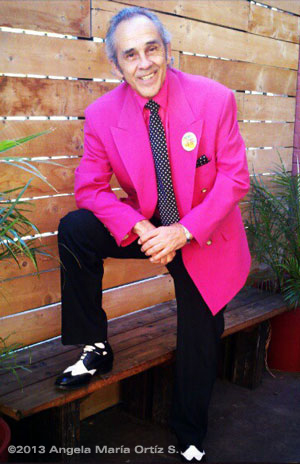 Pepe Serna, a constant whirlwind of activity and enthusiasm, has been one of the backbones of Latino Hollywood for decades, and one of its most recognizable faces.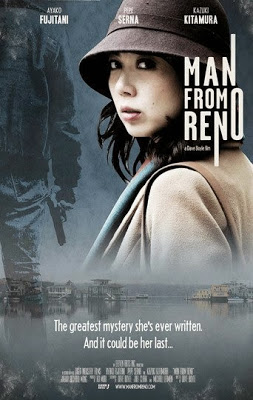 Born in Corpus Christi, Texas in 1944, Serna was initially discovered in Roger Corman's film Student Nurses in 1970, and soon thereafter appeared in the Hal Wallis-produced film Red Sky at Morning in 1971. Within months, he was working steadily on television dramas and comedies that have become classics: Mannix, Kung Fu, Police Story, and on and on. Along the way, he's appeared in some of Hollywood's most memorable films, including Scarface, Silverado, Car Wash, and Clint Eastwood's The Rookie. He was Reno Nevada in The Adventures of Buckaroo Banzai, he was part of Latino landmark films and television projects like Resurrection Blvd., An American Family and American Me. He even played Jennifer Lopez' father twice, in two different CBS series in the 1990's, before she became a superstar (for the record: Second Chances and Hotel Malibu).
For more than forty years, Pepe has worked regularly in film and television; he's still frequently recognized on the street for everything from Miami Vice to "that guy from Dragnet" (or Matlock, or Diagnosis Murder or thirty other TV shows) He's worked on stage as well, most notably in a one-man show called El Ruco, Chuco, Cholo, Pachuco, Serna's own version of the panorama of Latino cultural history. Over the years he's branched into voice-over and cartoon work as well. He played "Sanchez," the only continued Latino Character in Eddie Murphy's animated series The PJ's. Today, he has half a dozen film projects filming or in post-production, often offering his support on projects that include many young Latino talent, including Road to Juarez, Clean Sweep, and Man from Reno.
Pepe's sideline as a painter has met with critical success as well. His vibrant paintings and recent one-man stage shows reflect a serious return to his Mexican roots, and he has been commissioned quite frequently. In fact, Pepe was recently commissioned by the Los Angeles Annenberg Metropolitan Project and the Mark Taper Foundation to paint an inspirational canvas on the subject of reading. It was turned into a poster and given to students in the Los Angeles Unified School District.
Pepe has been honored by the Screen Actors Guild Heritage Achievement Award; the League of United Latin American Citizens; and the prestigious Estrella Award for Arts & Culture from the Orange County Hispanic Chamber of Commerce. His energy, enthusiasm, and constant stream of ideas and projects had made Pepe Serna an important part of the Latino community in Los Angeles, and a valued ally in our continuing cultural movement.
Website: pepeserna