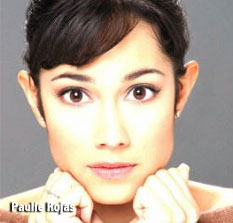 A new contemporary fantasy opened on February 17, but you have to look sharp and in all the wrong places to find it. Judging by the trailer, Dorothy and the Witches of Oz looks like a pleasant and entertaining take on Oz in the real world of the twenty-first century, with roles from old pro's like Sean Astin, Mia Sara and Christopher Lloyd. And at the center of it all is Latina newcomer Paulie Rojas, cute and plucky and pretty as a picture as Dorothy herself.
But the movie is opening with a whisper, in just four theaters as far a field as Arizona. In fact, it's a two-hour consolidation of a four-hour mini-series called The Witches of Oz that seems to be playing only in Europe, and the handful of theaters showing it now are all that's on the horizon for the moment.
http://www.youtube.com/watch?v=EN9T40ECIGE&ob=av3e
As slick as the movie looks, (especially in its new trailer, below) it must be a disappointment to see such a tiny premiere for what should have been Paulie Rojas' 'big break.' And that might still happen: what few reviews Witches has received have been good, and there's a chance the theatrical exposure will increase before the movie is released on DVD on April 10. And this is only her second shot, after a few years of low-budget films, TV shots and short films. (The other was the mandatory horror film that all pretty young actresses are required to make. Hers was The Last Resort, available to Netflix subscribers for free instant viewing here.
And the road continues to rise for Rojas: she has three more films either completed or in post-production–Folklore, Crimson Winter and Down and Dangerous–as well as others on the horizon.
This is just the way it goes for hard-working young Latinas in Hollywood: you work and you work to climb up the ladder, and sometimes you miss it by that much…and then you work some more.
We'll check in again in April, when Witches makes it to DVD.