By Dasha Mayorga Garcia
Paddington 2 the sequel to the worldwide hit Paddington opens January 12. We loved the first movie, it was so much fun to watch. Now we are crazy about Paddington 2, it was great to watch, it was funny, exciting and my 5 year old loved it. Mind you he has trouble sitting for long periods of time. This movie definitely kept him entertained and it's a great family movie.
Paddington 2 continues the story of the enduringly popular little bear in the trademark blue coat and red hat that touched audiences worldwide.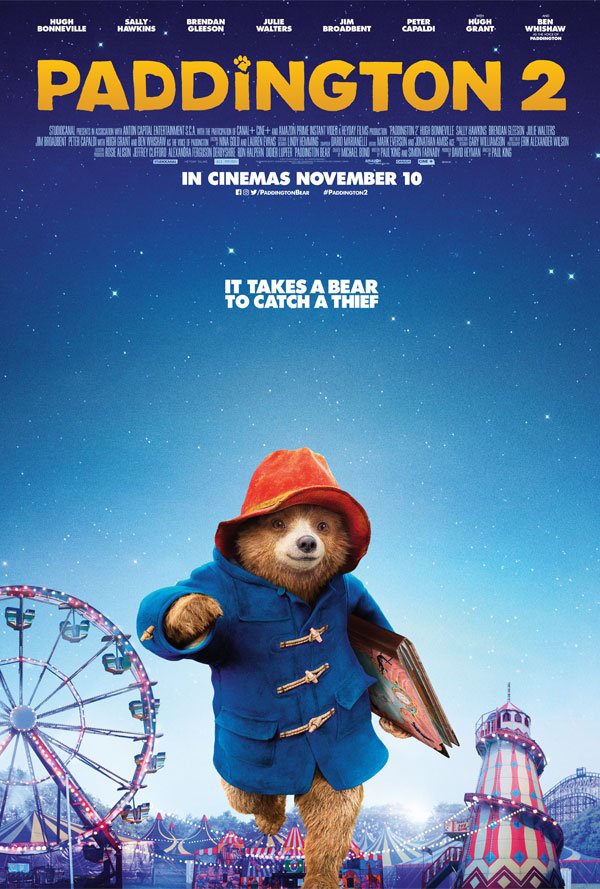 Based on the best-selling and internationally adored series of children's stories by Michael Bond, the film is once again directed by Paul King, from a script by King and Simon Farnaby.
Hugh Grant and Brendan Gleeson join the all-star returning cast of Hugh Bonneville, Sally Hawkins, Julie Walters, Jim Broadbent, Peter Capaldi, Madeleine Harris, and Samuel Joslin, with Ben Whishaw as the voice of Paddington and Imelda Staunton as the voice of Aunt Lucy.
The plot: The new story finds Paddington happily settled with the Brown family in Windsor Gardens, where he has become a popular member of the community, spreading joy and marmalade wherever he goes. While searching for the perfect present for his beloved Aunt Lucy's hundredth birthday, Paddington spots a unique pop-up book in Mr. Gruber's antique shop, and embarks upon a series of odd jobs to buy it. But when the book is stolen, it's up to Paddington and the Browns to unmask the thief.
Paddington 2 is in theaters January 12.