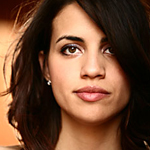 Natalie Morales is a beautiful and talented young actress. The question is, is she really lucky or really unlucky?
The newest news: Natalie was part of the supporting cast for NBC's new sitcom, Is That You, Vodka? It's Me, Chelsea. She was slated to play the best friend/roommate to Laura Prepon (That 70's Show), who plays Chelsea, while Chelsea Handler herself plays her older, pregnant sister (yes, it's a little dizzying.)
But no more. Months before the first episode is slated to hitthe airwaves, there's been a big shakeup at Chelsea's house, and Natalie, along with a couple of other cast members, are out.
Probably the unluckiest in the group is Jo Kay, a big, bald comedian who's a regular on Chelsea's real-life talk show, Chelsea Lately, over on the E! Channel. He got the boot, too, along with Angel Laketa Moore (ER). If anyone (other than Chelsea herself) was sure to have a solid place, you would have thought it would have been one of her carry-overs from E!…but not so.
Natalie, sadly enough, should be used to this by now. She first came to notice for most folks' notice as the lead in The Middleman, one of the more clever superhero send-ups in sitcom form, produced for ABC Family…but it was cancelled after a year. A short while later, she showed up as a regular on USA's White Collar, as a brilliant and beautiful FBI Agent. Then, just before she could get comfortable…she was gone. And now, in and out of yet another show, but this time before anyone even saw her (beyond a lengthy teaser/trailer that features all three supporting characters that are no longer extant.)
A lot of young Latina actresses work long and hard to get noticed at all. Using that measurement, Natalie's doing great—three good shots at the permanent big-time in that many years, with plenty of guest appearances and paying work n between. But using another measurement:—finally reaching the top of the hill, getting the notice you deserve—means that Natalie's not so lucky, with three up and three down.
Either way, we like watching her work…and we offer our condolences for The One That Got Away. Again.
Photos: David Zaugh