Chips, two words, crude and hilarious! I remember the original television show and this is not it, but that's ok. I have to admit, I laughed much more than I expected to.
The plot: Jon Baker (Shepard) and Frank Ponch Poncherello (Peña) have just joined the California Highway Patrol (CHP) in Los Angeles, but for very different reasons. Baker is a beaten-up former pro motorbiker trying to put his life and marriage back together. Poncherello is a cocky undercover Federal agent investigating a multi-million dollar heist that may be an inside job-inside the CHP.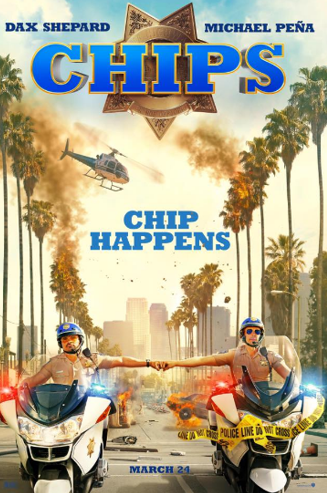 I always enjoy Michael Peña's work and Dax Shepard is not a bad director and it looks like it was a fun shoot, "It was a 45 day party."
We got to chat with Michael. He got to do a few of his stunts after learning to ride the bike. He also gave us an update to the next Ant Man movie. Click the audio and enjoy our funny back and forth.
Starring Dax Shepard (writer), Kristen bell, Jessica McNamee, Ryan Hansen, Rosa Salazar, Vincent D'Onofrio, and Adam Brody.
Chips in theaters March 24. It's not for little kids, definitely adult humor.