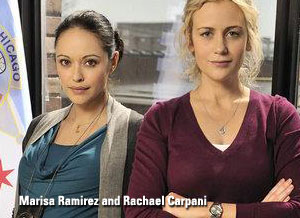 Watch yourself around Marisa Ramirez. She really can kick your ass.
Years of experience in L.A. and Hollywood have built her up. This girl started at a private school in Altadena; she paid her dues playing on both The Young and the Restless and won an award as Gia Campbell on ABC's General Hospital (and got nominations for an Alma, an Image, and a Soap Opera Digest Award for her trouble). Once she broke out of the soap opera ghetto–it was inevitable, she was too good to be stuck there–she stair-stepped through a series of critically acclaimed but short-lived series, like Miracles on ABC and Mental on FOX. And then she guest-started in just about every decent hour-long drama on the air: Bones, Rizzoli & Isles, CSI: NY, Castle, Shark, Without a Trace, CSI: Miami. And then, of course, she really got noticed as a latter-day Warrior Princess in the Starz actioner, Spartacus: Gods of the Arena. (Maybe you missed that, like most of the world that doesn't get Starz. Not to worry: it'll be out on DVD in September. We'll remind you.) And she can do comedy, too. Don't believe it? Catch her in an episode of The Suite Life on Deck on the Disney Channel today–July 26, at 11:30 a.m. So there.
And she kick-boxes. Did we mention that? No, seriously, she kick-boxes. All that ass-whippin' she did as Melitta on Spartacus was real, dude. When she's not campaigning against HIV/AIDS and homelessness or advocating for animal rescue, she's inflicting bodily harm.
And it's all coming back around. Now this tough Latina will get the chance to do some more serious violence to the bad guys in Against the Wall, the Lifetime series where she plays a street-smart Chicago cop, the partner of the series lead, Australian actress Rachael Carpani. It begins this Sunday, July 31 at 10P…and from the looks of it, once it starts rolling, it doesn't stop.
So seriously: be careful. She is exactly as tough as she seems, and she's going to hanging around for weeks now, man. You better watch yourself (when you're not watching her.)
You can learn more about Against the Wall here. You can get a twenty-minute sneak-peek of the new series here.