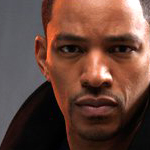 It really was too cool to die. Laz Alonso, that Cuban-American heart-throb who's really far too good-looking to believe, is getting a second chance to kick ass and catch criminals: A&E has just renewed Beakout Kings for Season 2.
Breakout lives up to its name in more ways than one. To begin with, it premiered with the biggest numbers that A&E had ever seen to that point: 2.8 million sets of eyeballs, 1.5 million in the all-important 18-49 demo. And they didn't stop there; Three episodes in,they made a splash by re-introducing a character from an entirely different (and canceled) show, when the unforgettable "T-Bag" Bagwell from Prison Break (which was, after all, created by the same guy who created Breakout Kings) Even the guys who actually broke out of that prison were mentioned in passing. Holy crossover!
And the Kings weren't done. They made big-time waves one more time in one of the last episodes, when Dexter's Lauren Velez appeared as the most evil criminal mastermind in the civilized world…and got away.
Now we can hope Lauren and T-Bag will be back with Laz and the gang for all-new surprises. Production for the new season is beginning soon; they could show up on A&E as early as Winter of 2012.