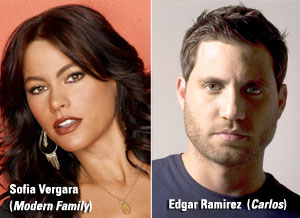 If you go to the Emmy web site, you'll see a breathless countdown clock as we stagger towards the Sunday night Show. You'll find handsome pictures of all the nominees, comprehensive lists of producers, lots of behind-the-scenes stuff…but what you won't see are Latinos, in front or behind the camera. At least so few that it's embarrassing.
There are sixteen 'major' performance and programming awards being given this year, to actors, actresses, and programs themselves. There are three others for reality programming and "music or variety" shows. You will find recognizably Latino names in exactly two of them–Sofia Vergara back again for Supporting Actress in a Comedy Series and Edgar Ramirez for Lead Actor in a Mini-Series for Carlos. And that is it. Three of the five nominations for Comedy Series (Glee, The Office,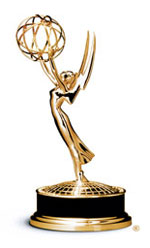 Modern Family) and one of the five for Drama Series (Dexter) have Latinos in the cast, but only Sofia is singled out in any way. And in the case of the variety and reality shows, there is virtually no one to nominate in the first place (with the obvious, temporary exception of George Lopez for his cancelled talk show.) There are no English-language reality shows that feature Latinos on a regular basis; there are not Latino reality show hosts. There are no Latino talk-show or variety show hosts, day or night. And a number of programs–regrettably, some no longer with us or on the way out–didn't get nominations either, most notably Desperate Housewives and Law & Order: Los Angeles.
Despite the presence of Latinos in a growing number of nighttime shows (thirty this fall alone, with more to come in early '12), the Emmys continues to focus on comfortable, formidable, and almost entirely Caucasian performers. (The African American and Asian contingents do almost as poorly or even worse when it comes to nominations; people of color in general are almost entirely ignored.) This year, somewhat ironically, it's less about getting the work–many of the trends are going in the right direction–and all about getting recognized.
It's no wonder that Latino Hollywood turned out for the ALMA Awards last week; they already knew that the Emmys were a lost cause, at least as far as 2011 is concerned.
Congrats, as always, to Sofia and a special congratulation to Edgar Ramirez for his outstanding work on Carlos. Good wishes to Dexter in particular, since it continues to feature Latino actors, themes, and guests in its Miami-based storylines. But as for the rest…
The show is Sunday night at 5P Pacific/8P Eastern on FOX. We'll let you know if any of the 3% of actors nominated actually get noticed.