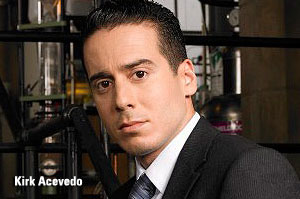 It's not that Kirk Acevedo can't get work; he's been employed pretty steadily in network TV series for almost a decade, jumping almost immediately from Oz on HBO to Law & Order: Trial by Jury (hey, remember that one? Neither do we.) to The Black Donnellys (ditto) to Fringe and finally to Prime Suspect. It looked like a good place to land–a very prestigious NBC show, heavily promoted and based on the cult-level popular BBC series of the same name, starring Helen Mirren. And the other actors in the show, from Maria Bello to Aidan Quinn. But some acts of fate, a changed world, and some bad decisions pretty much killed the show in its first few weeks. Now NBC has announced that they've halted production on Prime Suspect, and it's nowhere to be found on the net's mid-season schedule.
What went wrong? Part of the problem is the general malaise that seems to have infected the entire NBC schedule, with the possible exception of The Voice (and we'll have to see about that come 2012). Suspect was part of the single worst set of Fall Premiere numbers that NBC's ever seen, but even by that standard it was soft—very soft–from the day of its debut. It could be that the gritty, Nu Yahk street-level 'look' of the show–a style that was very popular with the Law & Order franchise for years and years–has fallen out of favor with most viewers; even the last of the L&O shows is struggling in the ratings this year, and the only other network show with a similar style–CBS' Person of Interest–has popularity probs as well (though that particular show owes more to The Equalizer than Law & Order or N.Y.P.D.)
"…the American version changed just about everything about the series–not just the location, but the characters, their relationships, and even the name of the lead."
It could also be that the connection of the UK Prime Suspect actually worked against the show. The folks behind the American version changed just about everything about the series–not just the location, but the characters, their relationships, and even the name of the lead. Big fans of Lynda LaPlante's British show who were expecting to see a slightly Americanized version of Helen Mirren's standout show were sorely disappointed; those who tuned in to revisit Maria Bello as they remembered her from ER got almost as big a shot at the abrasive and troubled portrayal that–especially in the first few weeks–had very little humor or light at all, and lacked the Mirrenesque wit that often saved the BBC production from itself.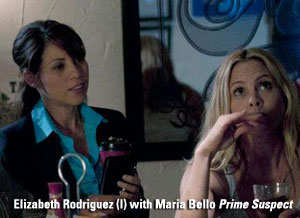 Then there's the issue of Bello's character itself. There's a fine line between "quirky but honest and fascinating" and "just plain annoying." Characters like Monk, House, and even Bones have managed to find that line and balance on it every week. Bello never quite made it; her homicide cop, more often than not, came across as nothing much more than remote and hostile rather than eccentric and endearing. And even though we saw some softer sides of her in the most recent episodes, the damage was done by then. In its last few weeks, Prime Suspect has delivered some of the worst ratings of its short lifetime, even as the programs themselves–like this one, focusing on a case of child abuse and, ultimately, manslaughter.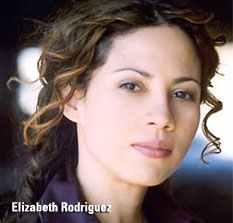 Networks go to a lot of trouble not to use the "c"-word when talking about programming, and the other primetime show that's not on the midseason schedule–Community–may actually be returning as a summer show or a waiting-in-the-wings replacement for the next inevitable casualty.
In any event, Kirk Acevedo and Elizabeth Rodriguez are already on their phones to their agents and looking to the future. Kirk has a little disaster movie of his own planned–Collision Earth, with no release date, while Elizabeth Rodriguez, who did a few episodes, is working on Tio Papi, a comedy-drama with newish Latino director Fro Rojas. They've both hugely talented people, and we're sure to see Acevedo in particular add another series to his chain of classy shows, but for now it looks like the precinct is closed.