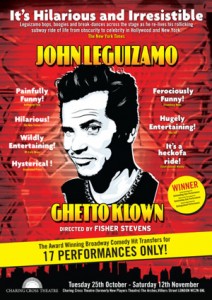 John Leguizamo is one of those ubiquitous comedy geniuses that consistently fly's below the radar. A live stage performer, a voice actor, a TV and movie star and so much more, Leguizamo is probably best known for supplying cartoon voices to movies like Ice Age and its many sequels, though he's appeared in action pictures like Executive Decision and Collateral Damage and thrillers like the recent Vanishing on 34th Street, and movies that simply defy description, like To Wong Foo Thanks for Everything, Julie Newmar.
Now, at long last, his innovative and challenging one-man shows (they're far more than just standup comedy) will get a piece of the larger audience they deserve when his one-man show, Tales from a Ghetto Klown, makes its broadcast premiere on PBS July 13 at 9 PM ET as part of the PBS Arts Festival.
According to a recent piece on Playbill.com and PBS itself, the hour-long profile "looks at his unorthodox rise to success while capturing his struggles to mount his latest one-man show. From his Colombian and 'NuyoRican' roots to his high-profile career in Hollywood, Leguizamo bares his soul." Klown closed on Broadway last summer, but now it lives on in video hi-fi. It should be quite the journey.
The show, according to press notes, takes audiences "from [Leguizamo's] adolescent memories in Queens to the early days of his acting career during the outrageous '80s avant-garde theatre scene, and on to the sets of major motion pictures and his roles opposite some of Hollywood's biggest stars."
Mark your calendars: July 13 at 9P.