He's already been The Clown. Now he'd love to be The Joker. And even better: a Latino Joker.
Trying to categorize John Leguizamo is basically impossible. He's a comedian, he's an actor, he's an entrepreneur. He's done everything from live theater to documentaries to big-time action movies to serious indies to TV sitcoms. In the last couple of years alone, he's been prominent and praised for a dozen different projects, including two or three TV pilots that didn't quite make it for all sorts of bad reasons.
Among all the other pursuits, John Leguizamo has become a bit of a 'thing' in pop culture. He was The Clown/Violator in the darkly twisted superhero movie Spawn; he was the bad-ass named Cholo in George Romero's zombie opus, Land of the Dad. And now he's Javier, the latest mentor/tutor to Red Mist, Christopher Mintz-Plasse's superhero persona in the brutal super-hero craziness Kick-Ass 2.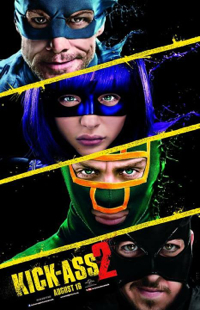 The Nerdist.com spoke with Leguizamo at the San Diego Comic-Con, where John admitted he would have preferred to have played a superhero himself…but he settled for being the power behind the throne. "You know, it ended up being really great because Chris and I sorta created this Batman/Alfred thing. You know?" he told Chris Hardwicke. "He's the superstar, and I'm his bitch. And that's okay."
He also talked about his other recent TV projects. There was an attempted reboot of a British series about "lovable rogues" that went nowhere; then came King John, a family comedy based on his own unique family in New York that co-starred Elizabeth Peña and Luke Ganalon, among others. King John showed some promise, but ultimately got a "pass" from ABC. Now he's working on a show that's closer to the slightly–or not-so-slightly–crazy and cool persona of his one-man shows. "We're really close," he told Nerdist. "It's not gonna be like my one man shows, but it's definitely gonna have the tone of my own comedy, you know? Very dark, very edgy, very vulnerable, very sexual. Very awkward and flawed (laughs)!"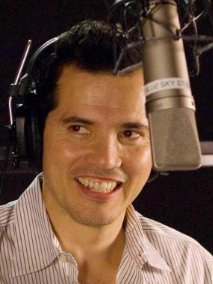 And then there's the whole "Joker" thing. In another recent interview with Desde Hollywood, Leguizamo revealed he's love to follow in the steps of the legendary Cesar Romero and become a new "Latino joker." "Just because I have to represent my Latin people," he explained. "It's crazy. I went to Comic-Con and 50% were Latin, Black and Asian. I said "Come on! We are so underrepresented and we support the whole industry." Not that he loves the high fantasy movies over all the other genres he's been part of. "I am not against comic-book movies," he told Desde. "I just feel that I have seen enough zombies, vampires and apocalyptic comic-book super heroes in my lifetime. I want to see real people on screen for a while. But hell yeah, I would do Batman. The Joker would be a blast!"
Kick-Ass 2 premieres Friday, August 16. We'll see Leguizamo next in The Counselor, the Ridley Scott/Cormac McCarthy drug-running thriller, due in October. And he's already recorded his part for the animated sequel Rio 2, hitting theaters next April. And obviously–obviously–there's more to come.