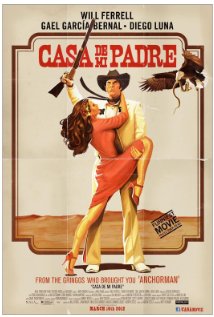 We had our doubts about Will Ferrell's new movie, Casa de mi Padre. But we're convinced: with people like Diego Luna, Gael García Bernal, and hot newcomer Genesis Rodriguez on board, this is clearly just the Latino version of his other, gleeful, broad and ultimately innocent parodies of genres, like Anchorman and Blades of Glory and Talladega Nights before it.
And if we weren't already convinced, watch this hilarious interview he did with Jimmy Kimmel. Will's been making the rounds on every conceivable talk show this week, from The Daily Show to Charlie Rose (in fact, the Rose interview, including some of the rest of the cast, is pretty good. You can watch it here.) But the best and most bizarre by far is the Kimmel appearance, done entirely in the worst Spanish you have ever heard, and brutally honest captions.
Check it out below. Casa de mi Padre opened March 16, all across the country.
http://www.youtube.com/watch?v=EGvhKlKnERA&feature=youtu.be