…and his new book Lightning in a Bottle (including a September 15  & 16 book signing in Los Angeles)
Se Fija!'s publisher, Angela M. Ortíz, has a story to tell:
Back in 1971, I was on a school trip—my first visit to Disneyland. I spotted Henry Darrow strolling around, so I walked up to him and asked for an autograph. He was very kind and gave me one. Then I went off to enjoy the rest of the day…and I lost all my things on a ride. I was so upset…until I spotted Henry Darrow again, late in the day. I went up to him and told him my tragic story, and he gave me another autograph. He was so patient and generous, I have always remembered it…
Today, decades later, nothing has changed. Angela had a chance to talk at length with Henry Darrow recently, from his home in Wilmington, North Carolina where he lives in retirement with his wife Lauren.
Now in his late seventies, Darrow was one of the first Latino actors to play a continuing and positive role as a Latino on network television: as Manolito Montoya in The High Chaparral, a handsome western in the Bonanza tradition that fan from 1967 to 1971. Darrow's character was the head of the Montoya family, the mirror of Leif Erikson's Anglo clan. "It was the first time there was a Latino family as important as the Anglo family," he said during his conversation with Angela. "We thought we were going to kick Bonanza off the air, and we didn't…but we still did all right."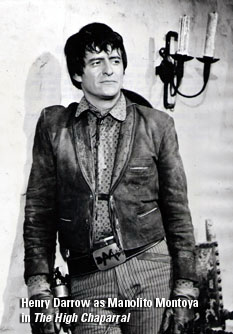 Darrow had been a successful character actor for years before Chaparral, as a guest star in top shows from Wagon Train to Gunsmoke to The Wild, Wild West. But, he said, "I played one non-Latino in my first ten or twelve years." And it didn't necessarily get any easier after his 'breakthrough.' His prominence as Manolito proved to be another obstacle. "That character overshadowed me a little," he said, "Casting agents said, 'people would recognize him too much.'" Finally, almost a year after the series ended, he landed a role on Mission Impossible playing a character named "Gregory Tolan." From then on, Darrow's roles included Italians, Hawaiians, Anglo, Native Americans…and yes, Latinos–a flexibility that was almost unheard of in the Hollywood of that time. He credits his success, at least in part, with the changing of his name.
Born in New York, raised in the Washington Heights district of New York (now, interestingly, a predominantly Dominican neighborhood), Henry Darrow was born Enrique Tomás Delgado, and lived in Puerto Rico as a teenager. And he was actually back in Puerto Rico, in college and acting, when he received a scholarship to the Pasadena Playhouse in California. There he had a chance to perform a wide range of classic regardless of his heritage: Shakespeare, Shaw, and original works as well. It proved to be the gateway to his larger career. "In those days," he recalls, "agents and producers would actually come and see plays." He was performing in a play written by the late fantasist Ray Bradbury, The Wonderful Ice Cream Suit, when a producer for Bonanza–there to see another actor–saw his work and cast him. And it was right around the same time that Delgado changed his name to Darrow, in hopes of landing not only Latino parts, but a wider range of roles.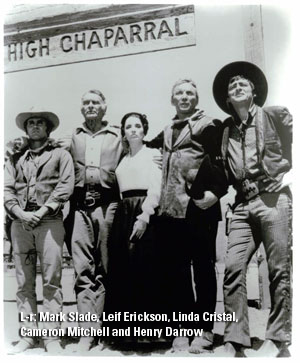 "The minute I changed my name," he told Angela, "I read for something and was offered the part of a German. Then the casting agent said 'Wait a minute, there's another part here: have you ever done an Hispanic accent?' Of course I said, 'yes.' 'Oh,' he said, 'you'd be better for this part.' That wider range of roles finally opened up for him in the Eighties and Nineties, and made him one of the most prominent Latino actors in Hollywood for years. "I've played Hawaiian and Greek," he says now. "You change a word here or there, and it works. I don't really do Latino accents–when I'm playing a Mexican with other Mexicans, I have to be careful. They have legitimate accents, and I have to make one up."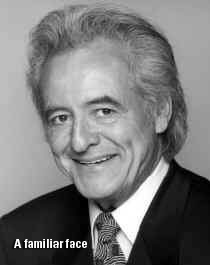 Darrow remained active in television for more than thirty years, with frequent guest spots and recurring roles in everything from Quincy, M.E. to Zorro to a substantial stint on The Bold and the Beautiful in 2001. Ultimately mounting health problems and difficulty with his memory led to retirement. He quietly left Hollywood behind, and hasn't returned for more than seven years.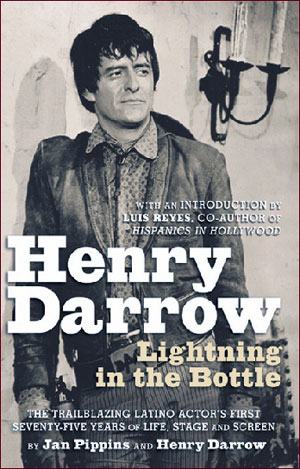 But the stories live on. Over the years, Darrow has attended High Chaparral events–signing autographs, posing for pictures, giving interviews–and he has finally collected his best memories in Lightning in a Bottle, working with co-writer Jan Pippins. The reviews have been very positive, calling it, "inspiring," "entertaining," and "a terrific learning tool." "Let's face it," one reader said. "Henry Darrow is still one of the most fascinating actors to ever hit the TV screens of America. His charm and magnetism transcend any racial or cultural divide, as evidenced by his long and illustrious career. Like Henry, this book is electric." And writer/entertainer Rick Najera says, "Henry survived and had a career when if you were Latino, you couldn't be just good, you had to be beyond great and that's Henry. At the height of his fame Darrow put his career on the line to open doors for other Hispanics. He has continued to break ground for over fifty years as a working actor. Lightning in a Bottle is the must-read portrait of this inspirational, fiercely determined, endearing and enduring Emmy-winning performer."
Henry Darrow will be signing copies of Lightning in a Bottle at the Gene Autry Center in Los Angeles on Saturday, September 15–the day he will also celebrate his 79th birthday."
Today, Darrow and his wife own and manage residential real estate in Wilmington. He does occasional appearances, and he's enjoyed a small book tour for Lightning, but he is generally surprised that anyone remembers him or his work after all these years. Still, it's been a good career–a good life. And all in all, "78 is a good number." And it looks like 79 will be even better.