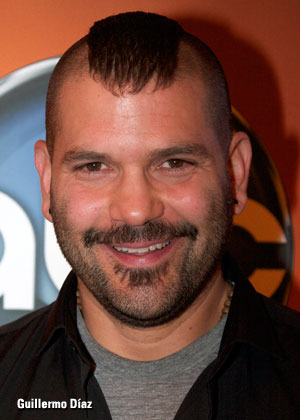 We mentioned Guillermo Díaz before; how could we not, what with him being all talented and super cool! He's been at this quite a while–ever since Half Baked, Party Girl, and High School High. He was in The Terminal, too, Steven Spielbert's underrated Tom Hanks film from 2004.
But Guillermo started getting really noticed when he turned to TV. You've seen him repeatedly on everything from Third Watch and Without a Trace to The Shield and Weed. Most recently he's been a series regular on Mercy and ABC's No Ordinary Family…
…and now he's part of the cast of Shonda Rimes' new show, Scandal, about a beautiful young 'fixer' in Washington DC who gets in way over her head.
Díaz plays a character named "Huck," a cover operative with (of course) a past. In fact, he's got one of the most overheated character bios of the season. Check this out:
What the CIA did to make Huck into…Huck…remains a mystery. A highly trained and highly damaged covert operative, the low-key and quietly brilliant Huck now swears his allegiance to Olivia Pope [the 'fixer'] and will happily go very, very far to protect her or his colleagues at Olivia Pope and Associates. He's a seasoned spy and a masterful hacker with an admitted tendency for extreme measures. But he's trying really hard to be good.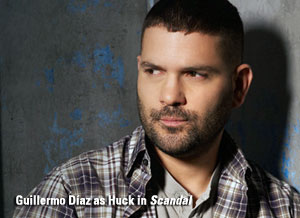 Okay, you got us.
Díaz is one of the constantly working actors that every young Latino/a performer wants to emulate. He's always asked for advice from up-and-comers, and this is what he has to say:
"Work. Keep working. Work, work, work. When I started in New York, I did extra work, and I never asked anyone for advice. I just knew I wanted to act, so I kept acting in plays. I joined a theater group, I did student films, extra work. I just loved to work. My advice is just keep working, find work wherever you can and keep acting"
Catch Scandal beginning Thursday, April 5 at 10P on ABC, and check out more about the show here. And for all you Weeds fans: Guillermo's character, Guillermo, is coming back.
If anybody can make a character named "Huck" super-cool, Guillermo's the guy.
Photo of Díaz: ©2012 Angela María Ortíz S.