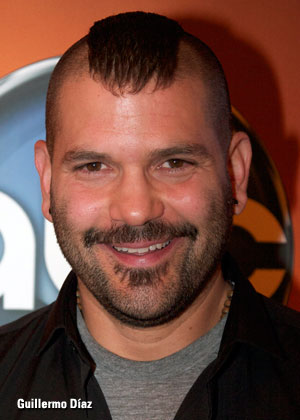 Guillermo told us himself back in January, (really: check it out here) and now it's confirmed: even as he continues work on the ABC nighttime politico-romance Scandal, he'll be reprising his role as "Guillermo Garcia Gomez" on the last three episodes of Showtime's Weeds, beginning with the 100th episode on Sunday, September 9.
TV Guide quotes Weeds creator Jenji Kohan as saying, "I love Guillermo. Shonda Rhimes called me and was like, 'You want my boy back?' I'm like, 'I love him!' and she says, 'I love him too!' She was generous enough to let us have him for a little while." And especially for Weeds fans: looks like Guillermo is only one of the series "old friends" who may be appearing in the final arc. Look out for Renee Victor as Lupita and David Fernandez Jr.
Weeds two-part series finale is set for tonight, Sunday, Sept. 16 at 10P on Showtime.
Photo: ©2012 Angela María Ortíz S.