Guillermo del Toro remains one of the busiest Latino directors and producers in Hollywood. Past all the classics he directed, from Pan's Labyrinth to Hellboy and its sequels; past his bestselling vampire books like The Strain, past the fact that this guy turned down directing The Hobbit, del Toro continues to empower pop culture as everything from a creative consultant on Megamind and a producer on Puss in Boots to an exec producer of the far-future TV version of The Hulk. Rather like that big green guy, he can't be stopped.
This year, del Toro's been concentrating on directing the alien-invasion-big-robot blockbuster Pacific Rim, starring (among many others) Clifton Collins Jr. It's in post production now, and we won't see it until summer of 2013…but in the meantime, he's got his slightly bloodstained fingers into a new project: The Bloody Benders, a retelling of the true story of the Bender family of 1873 that had a hotel on the edge of the prairie where hardy pioneer checked in…and never checked out (see "Motel, Bates" or "Hotel, California" for further cultural references.)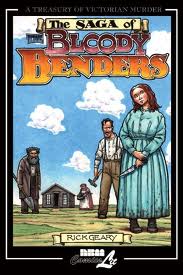 "It is a beautiful and brutal yet poetic story, based on a very famous case," del Toro told the folks at Deadline: Hollywood. "If you consider America back then, it was a great transition to modernity, but on the prairie, these were huge landscapes where people traveled for days and weeks on end would pass without communication. So nothing happens, then there is this brutal murder, and then it's back to pastoral peace and quiet. That rhythm was very attractive to me."
The ultimate hyphenate begn as a protégé of the legendary make-up artists Dick Smith, but these days he has so many irons in the fire, it's hard to keep up with him. As a producer, he has at least three projects slated to appear this year (not including his credit as a writer on The Hobbit)–a bizarre short film called The Captured Bird, an equally bizarre movie called Mama about feral children, and the frankly indescribable story of legendary figures as action heroes, Rise of the Guardians, starring a heavily tattooed, kick-ass Santa Claus with a Russian accent. And now he can add The Benders, an intriguing and brutal combination of Western, horror movie, and–he swears!–love story–to the line-up.
Rise or fall, success or failure (and he's had his share of both), one thing's for certain: Guillermo's stuff is always fascinating.  And if you're looking for a little vintage del Toro, FX is showing Hellboy II: The Golden Army next Wednesday and Thursday, May 2 and 3. Check your local listings for times.