Is this Mario's fault?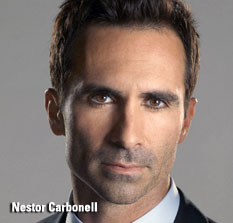 There are ratings, there are raw numbers…and then there are demographics. And Sarah Michelle Geller's new twin-within-a-twin-within-a-murder-mystery suspense series Ringer may have demos—and another swift network failure—to thank for today's announcement: the CW has just ordered a full season.
Exactly why is a bit of a puzzle, but it's certainly good news for Latino actor Nestor Carbonell, playing the FBI agent obsessed with one of the twins (the stripper, not the fashion icon). Now he'll get to chase one version or another of SMG for the whole season, though his character has yet to uncover the key secret of the show thus far: that Sara-the-Stripper-in-witness-protection has taken the place of Sarah-the-fashion-icon-who-maybe-killed-herself.
CBS actually paid for the Ringer pilot last year (Nestor was part of that, too). Ultimately, they passed, though it took the CW no more than 48 hours to step in and snatch it up. The show's opening night—September 13, one of the earliest premieres on any network—did not do nearly as well as the CW had hoped—not Buffy the Vampire Slayer numbers, certainly—but the demo numbers weren't all that bad, especially for a network that's trying to expand its core viewership beyond the young women who watch 90210 and Vampire Diaries. And things didn't look any rosier when the show lost more than 800,000 viewers the second week.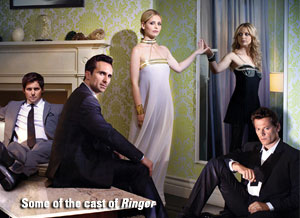 But the CW wasn't prepared to let go that easily. They re-showed the series opener three days after its premiere in hopes of gaining more notice…and when Mario Lopez' ill-conceived reality show H8R got the ax after only a few episodes, the CW slotted a permanent second showing of Ringer in its place on Wednesdays.
Since then, the series has seen a 33 percent jump in that all-important 18-49 demo, and—as The Wrap said recently—"The network will need the extra episodes that the full-season order will bring."
Is the show any good? Not for us to say. It certainly hasn't set the cult-pop world on fire like SMG's earlier series, but that took a while to build as well. And it has an uphill battle ahead as well—particularly after the baseball play-offs—as it tries to keep people away from the only legit ratings success of the new season, FOX's New Girl.
Still, Ringer—and Nestor Carbonell—can now join an exceedingly small list of programs that are assured a place on program listings for a whole season. For everybody else (except New Girl, 2 Broke Girls, Up All Night and Whitney), it's still wait and see.