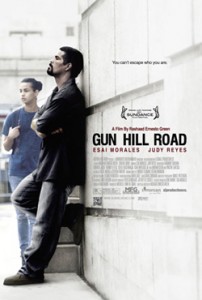 We talked a little about Gun Hill Road when it opened the Los Angeles OutFest a few weeks back. Today it opens an all-too-limited run at AMC theaters in Los Angeles and New York. It's a well-made, heart-wrenching, sometimes violent and intense story with a lot to say about acceptance, pride, Latino culture, prison life, adolescence, gender roles and a great deal more, and many of the performances, especially those from Esai Morales, Judy Reyes, and the impossible good new 'find' Harmony Santana make it worth the ticket price all by themselves.
But Esai Morales himself pointed out another, equally important reason to open your wallet and see the film. "This weekend opener for Gun Hill Road is crucial," he told us in a conversation this week. "If it becomes a hit, I would be very pleased…but I'd be over the moon to know that nuestra gente (our people) finally came out to see for themselves what can happen when they support their own. Movies like Gun Hill Road don't come along every day. To make sure that more movies make it through the invisible barriers of "The Biz," we have to show up…on point and on time. C'mon out to the AMC theaters showing GHR and help us make movie history."
Nobody could say it better. Through his own work and time, and with his own money and non-profit, Morales is making things better for Latinos in the entertainment industry and in the world at large. So the least we can do is support him.
Here is what we said about the movie when it premiered at OutFest. Every word is true. And click here for a link to the Gun Hill Road web site, if you want to see clips or photos.
Then get up off your ass and go see this movie while it's at the theater…for all sorts of good reasons.