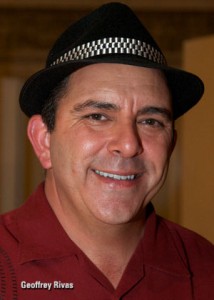 Geoffrey Rivas has portrayed Detective Sam Vega on CSI: Crime Scene Investigation twenty times…and apparently twenty is enough. In his most recent (and last) episode, "Crime after Crime," we discover something very bad about Det. Vegas and something very bad happens to him because of it–not necessarily in that order.
Vegas first appeared over ten years ago, in "Too Tough to Die," the sixteenth episode of the series in its very first season. Since then, not a year has passed that Sam hasn't shown up at least once or twice as the detective in charge. But no more.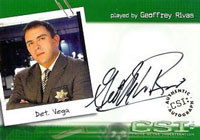 It's funny–Rivas has been appearing in TV shows for almost 25 years, and he's played a cop so often it's hard to keep count. His first cop seems to be in a TV movie called Steel Justice, almost twenty years ago. Since then, he's been a policeman over and over, on Chicago Hope, Brooklyn South, Pensacola: Wings of Gold, The District, Numb3rs, Standoff, Shark, Lincoln Heights, and just a couple of weeks ago on American Horror Story. And that's not including his appearances as security guards, soldiers, customs agents and once–ironically–even a crime scene investigator, early on.
It was an odd ending for a recurring character–shocking, really, especially the final revelation that was presented in an almost off-the-cuff fashion. And obviously Rivas himself, in the real world, is hale and hearty. Given the American Horror Story appearance, which you can see in its entirety here, it looks like Geoffrey Rivas will be in plain sight–and probably playing a cop–for a long time to come. (Of course, good cops–and good characters–never really die. Syndication won't let them.)
R.I.P, Det. Vega. And hello, Geoff.
Watch Det. Vega's final appearance on CSI, right here.
Photo: Angela María Ortíz S.