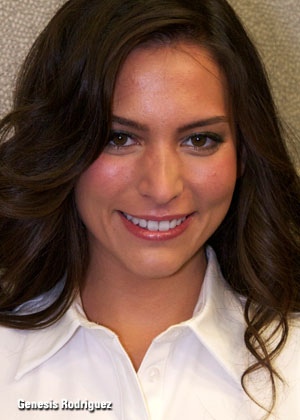 My brother and I grew up watching a lot of National Geographic shows, and when the chance came to see the new Disneynature film, Chimpanzee, we had to check it out. These types of films are universal; they affect all of us.
The evening's host was actress Genesis Rodriguez (Man on a Ledge, Casa de mi Padre). Turns out she has been a huge Disney fan her whole life, growing up in Miami, FL., where she spent a lot of time at Disney World. Her first birthday was celebrated there; since then it's become a birthday tradition. She still tries to spend time there when she's off work. To this day, her favorite Disney film is still Los Tres Caballeros and she still believes she's the Little Mermaid.
Genesis just wrapped production on the Lionsgate film Last Stand, co-starring opposite Arnold Schwarzenegger, Rodrigo Santoro, and Forest Whitaker and set to premiere January 2013. Next she begins work on another film this month: Hours alongside Paul Walker of the Fast & Furious franchise.
We got a chance to talk to her about her support for the evening's film. She thinks it's very appropriate that the film is coming out around Earth Day, and hopes it will bring awareness of the plight of the chimpanzees, whose numbers have diminished by seventy percent in the past hundred years. Chimpanzee is a great family film, and Genesis thinks Disney is a great place to bring that awareness to people, and best of all, Disney will be donating $.20 per ticket sold during opening week to the Jane Goodall institute (JGI). She just feels that the whole film is just wonderful from start to finish, its all natural. You can see a clip below.
We wrapped things up with her talking about how incredible the past few months have been. "I feel amazing," she told us. "I feel like it's surreal right now…I'm simply taking it day by day, just taking it slowly. It's a lot to digest and I guess it's a lot for people to see me being in a lot of places. It's kinda crazy."
Photo: ©2012 Angela María Ortíz S.