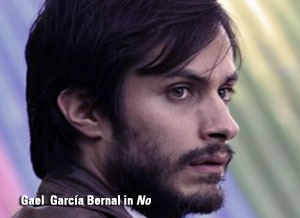 The Cannes Film Festival is barely underway, but Sony Pictures Classics has already acquired the North American rights to No, director Pablo Larraín's film about Augusto Pinochet starring Gael García Bernal. It's been screening the "Director's Fortnight" section of the Festival and creating quite the buzz.
Larraín is a serious director; his earlier films like Fuga and Post Mortem have been called "powerful" as well as "morbid," this is no different. And his earlier works, including the well-respected Tony Manero (yes, the character from Saturday Night Fever) is also a story about the Pinochet regime. This time, Larraín focuses on a young ad executive (Bernal) who remains under constant scrutiny by the government, even as he devises an opposition campaign that could actually win the election and free Chile.  Sony says, "This movie is a masterfully engaging and energetic drama about politics and power, a tonic for the brain that is also a major entertainment," Quite the jump from Bernal's most recent movie: Will Farrell's Casa de mi Padre.
The New York Times did a nice piece on the film and Bernal; you can read that here, and it's worth it.
It's way too early to know how and when U.S. audiences will get a chance to see the movie, but it's good to see that a Latino film—written and directed by Latinos, starring Latinos, about a subject of great importance to Latin America–is getting the attention it deserves.
More to you as we learn more…