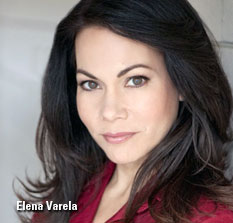 One of the first new entries in the fall season in A&E's Coma, a multil-part miniseries that premiered on Tuesday, September 4…and Elena Varela, fresh from Savages and 96 Minutes, plays a key role as Nurse Elena Montoya in this remake of the 1978 movie of the same name, which in turn was an adaptation of Robin Cook's 1977 novel. Lauren Ambrose, James Woods, Ellen Burstyn, and Richard Dreyfuss are among the stars, and one role clearly written for a Latino–"Dr. Edward Ramirez"–is actually being played by Italian actor Franco Castan–a strange and thankfully rare casting choice these days.
Elena is one of many hard-working Latinas who have done a little bit of everything to make a mark in Hollywood. The youngest (and first American-born) member of her Argentinian parents, she grew up in Maryland but still celebrates her Latino roots. Fully bi-lingual, she has played both Latino and non-Latino roles in her expanding career. She's appeared in small roles in a number of TV series in 2010 and 11, hosted a local Washington-based show called Diver(C)ity which went on to wind and Emmy, and recently served as host of the 1st Annual Mr. Latino-America contest.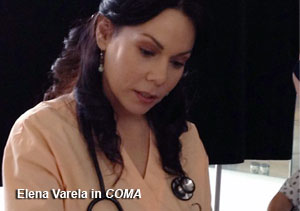 Things have really begun to happen for Elena in 2012. Earlier this year she appeared in Savages, Oliver Stone's film of drugs and murder that starred Salma Hayek and Benicio del Toro. She also appeared as a detective in a two-part episode of Criminal Minds. Now there's Coma…and soon she'll be featured in Untold, writer/director Gina M. Garcia's first feature film, which stars Ricardo Chavira (Desperate Housewives). Elena is filming that story of childhood kidnapping and repressed memory right now.
As with so many others, it's taken some time for Elena's work to be noticed, but there's no question now: she's on the rise, and an important part of A&E's first new offering for the Fall 2012 season. In fact, you can see all of Coma right now on A&E's web site, here.