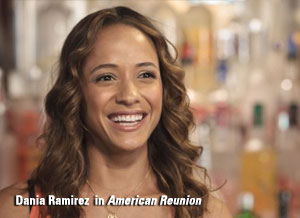 Ten years ago, Dania Ramirez, a beautiful young Dominican starlet, was part of ABC's "Talent Showcase." The folks that saw promise in her when she was just starting out must be feeling very proud these days: Dania is one of the few "new" faces in American Reunion, the long-awaited sequel to American Pie (opening today, April 6), and she's one of the increasingly awesome cast of Latina actresses who are making Marc Cherry's pilot for ABC, Devious Maids (Se Fija!) . Things are really coming together.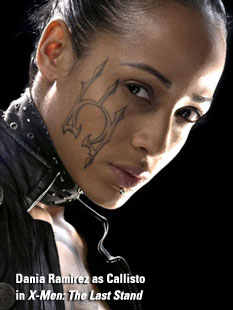 Ever since that "Showcase" day, she's been working her way up. She was one of the "Buffies" in the last season or so of Buffy the Vampire Slayer; she did larger and larger parts in a bunch of independents, and then got noticed big-time as Callisto in X-Men: The Last Stand in 2006. That led to more movies (Quarantine, The Fifth Commandment) long arcs in high-end shows like The Sopranos and Heroes, and just last year a nine-episode arc on Entourage. (In fact, you can see some of her Entourage episodes on SpikeTV this week and next.)
And now: big movies, a big opportunity on TV, and a couple of other movies already in the works. Good to see somebody who's been in there swingin' is finally getting what she deserves.
And here's a cool little interview with Dania about how hard (and easy) it was to fit into the "old friends" network on American Reunion…
http://www.youtube.com/watch?v=0l-SwUcUTBg